MICKEY SANDS CHILD CARE CENTER
The Mickey Sands Child Care Center is excited to open its doors and serve the Canandaigua community.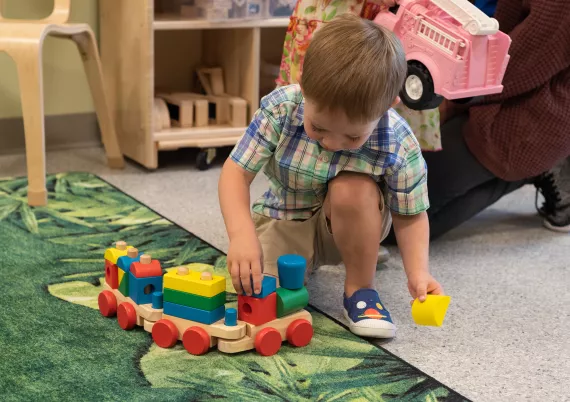 Children are cared for in a warm and nurturing environment where they will receive early learning, intervention and educational services. These services are designed to improve the child's cognitive, social,  emotional, early literacy, fine and gross motor skills.
Classrooms will have established routines and schedules. Nutritious meals will be provided for breakfast, lunch and snacks. 
All staff go through a rigorous hiring process to ensure all meet the qualifications of the YMCA and the Office of Children and Family Services. Staff will receive ongoing training to promote professional development that addresses the education, growth, and development of children.
All families enrolled at the Mickey Sands Child Care Center will receive a FREE Sands Family YMCA Membership.
Frequently Asked Questions
HOW/WHERE DO I REGISTER MY CHILD(REN)?
Between February 10, 2023 and June 2, 2023, parents/guardians need to fill out our pre-registration form for their child to be enrolled and email it to SandsChildcare@RochesterYMCA.org or bring it to the Canandaigua Family YMCA at 32 North Main Street. It is a first-come first-served basis. If our classroom is full, your child will be put on the waiting list.
WHAT IS THE COST OF CHILD CARE?
Infants (6 weeks-18 months): $362 per week
Toddlers (18-36 months): $336 per week
Preschool (3-4 years old): $325 per week
The YMCA of Greater Rochester child care policies state that payments for child care are required to be made weekly and is due on the Friday two weeks prior to attending. Private pay, Experience Scholarship, and Department of Human Services (DHS) will be accepted at all of our child care centers.
HOW DO I ENSURE MY SPOT IS RESERVED?
Parents/Guardians will be required to pay a non-refundable $150 deposit (per child) and a non-refundable $100 registration fee/$150 family registration fee. The deposit will go toward your first week's payment.
WHEN WILL THE CHILD CARE CENTER OPEN?
We are anticipating having an Open House at the end of August so parents/guardians can meet the teachers and visit the center. We will have a staggered opening:
Infants: start date will be Tuesday, September 5, 2023
Toddlers: start date will be Wednesday, September 6, 2023
Preschoolers: start date will be Thursday, September 7, 2023
DO YOU OFFER ANY FINANCIAL SUPPORT?
The Experience Scholarship Program provides individuals and families in need with financial support to enable their participation in YMCA of Greater Rochester membership and program activities. Scholarships are granted based on available resources and family eligibility.
Yes: Department of Human Services (DHS)
The YMCA also provides "Facilitated Enrollment" for parents who may be able to receive state subsidy. We will assist you with the process of paperwork and help you keep track of information that is needed for the state. If you need to apply for DHS, please contact us.