The story of the YMCA is anchored on community, innovation, and resiliency. Through wars, pandemics, economic depression, the YMCA has survived it all and continues to serve its community.
1844
Young Men's Christian Association founded by George Williams in London. The organization's drive to meet social need in the community was compelling, and its openness to members crossed the rigid lines separating English social classes.
1854
Rochester YMCA founded; 50 young men were enrolled as charter members.
1869
YMCA "Boys Work" established - the YMCA 's first entrance into youth work.
1878
Although women are not allowed to become members, a Women's Auxiliary is formed in Rochester.
1880
First "Railroad Y" is established on State Street. Railroad Ys provided lodging and meeting spaces for railroad workers.
1890
The South Avenue YMCA, the first traditional YMCA building in Rochester, opened. The facility housed a gymnasium, swimming pool, locker rooms, and meeting rooms.
1891
YMCA invented the game of basketball at Springfield College, a YMCA training school.
1892
Summer camping is established, with 12 boys and two leaders camping in tents on Sodus Bay.
1895
YMCA instructor William Morgan invented the game of volleyball.
1910
YMCA sponsored and organized the Boy Scout movement in Rochester.
1915
George Eastman pledged $250,000 to a new YMCA fund drive to build a central YMCA operation and satellite branches, provided the city would raise an additional $500,000 in order to finance the projects. Volunteers organize and surpass the goal in nine days.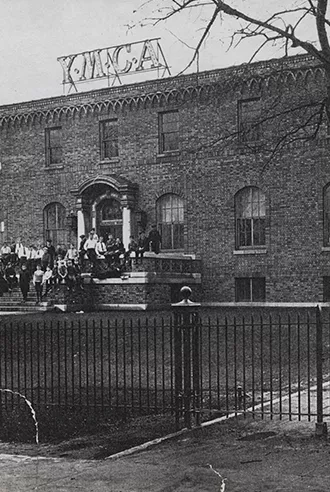 1916
Central Y and Maplewood Y are completed and dedicated.
1920
Camp Cory opened on the shores of Keuka Lake as a resident camp for boys.
1922
A special building fund drive raises $450,000 in nine days, enabling the construction of the Monroe and Arnett Branches.
1932
First scholarship campaign conducted, allowing those affected by the depression to participate in Y programs without having to pay fees.
1936
Youth in Government Program is developed by the YMCA, seeking "to determine ways and means by which our Christian philosophy may be effective in civil life."
1950
Racquetball is invented by the YMCA
1960
Camp Arrowhead day camp facility is established.
Women and families are welcomed to the YMCA with expanded programs and services.
1961
YMCA Camp Gorham opens in the Adirondacks, thanks to a generous donation from the Gorham Family.
1972
To address suburban growth, the YMCA opens three suburban YMCA facilities - Bay View (Webster), Northwest (Greece), and Southeast (Pittsford).
1982
School Age Child Care program is established, addressing the needs of working parents.
The Chester F. Carlson MetroCenter YMCA opens in the heart of Downtown Rochester, replacing the Central Branch.  The project is made possible thanks to a $2.5 million gift from the Carlson Family.
1998
YMCA opens two new facilities - the Southwest Active Family Center (19th Ward, Rochester) and Victor Active Family Center (Victor).
2001
YMCA opened the Lewis Street Child Care Center, addressing the child care needs of hundreds of inner-city families.
2004
YMCA opened a new, state-of-the-art facility - the Westside Family YMCA in Gates - the first new branch in more than 20 years.
Bay View Outdoor Splash Pad opens
Discovery Lodge at Camp Arrowhead completed
Capital Campaign for Camping completed — over $5.7 million raised for camps
Grand opening of Camp Northpoint
2006
YMCA opened Eastside Family YMCA in Penfield.
Invest in Youth Campaign (IIY) reaches $1 million mark.
Northwest Branch expansion completed.
The Y became the largest child care provider in Monroe County.
2008
A 8,800 sq. ft. expansion completed at the Westside Family Branch.
2009
The Bay View Family Branch opened Outdoor Swim Center.
2010
Strengthening Communities Campaign: A decade-long philanthropic effort to raise $75 million. Starting with the Maplewood Renovation in 2010 and culminating with the Regional Campus for Healthy Living and Camp Cory Masterplan, this campaign is about impact investing from the community philanthropists and organizations to enable the Y to increase the capacity of our social economy for years to come.
2011
Maplewood Branch's revitalization and reopening with new United Way and Lifespan senior center, The Caroline "Lily" Lobozzo Aging Resource Center.
2012
Y surpasses its goal for IIY Campaign to raise $2 million.
Jurij and Marie Kushner make largest estate gift to date and open 2 community gardens.
Eastside Child Care Center opens at the Fairport Baptist Homes.
Collaboration with Bivona Child Advocacy Center to create the Darkness to Light training to address the epidemic of child sexual abuse.
2014
MVP Health Care Living Well Center opens at Westside Branch, in partnership with the United Way, Lifespan, and the Y.
Collaboration with city schools for extended day programs and expansion of universal pre-Kindergarten full-day program.
Camp Gorham becomes one of 17 sites in the nation to host Camp Corral, a free summer camp for children of wounded, disabled or fallen military service members.
2015
University of Rochester Partnership: A first of its kind partnership in the Northeast, the YMCA and UR Medicine partnership allows both organizations to share resources and leverage unique assets, resulting in new services and offerings for the entire community with an emphasis on a convenient, high-quality continuum of care.
Corning Family YMCA becomes a member of the YMCA of Greater Rochester Association after the completion of a two-year management agreement.
Completion of the Eastside Family Branch Expansion and inclusion of a wellness partner, UR Medicine.
2016
Maplewood Centennial: Throughout its 100 year history, the Maplewood Family Branch has continued to change and adapt to meet the needs of the neighborhood and the community. Yesterday, today, and tomorrow the Y has been part of the bedrock that the community has been built and transformed on.
2019
YMCA opens Schottland Family YMCA in Pittsford. The 140,000-square-foot, state-of-the-art facility features two pools, and indoor splash pad, three gymnasiums - including a turf gym, community spaces, a spin studio, several group exercise studios and a wellness partner, UR Medicine. Support for this location saw the largest single capital donation to date - a $3.5 million gift from Peter and Susan Schottland.
2020
In March 2020, the YMCA of Greater Rochester, like so many other organizations, were forced to close our doors due to the COVID-19 pandemic. The Y continued to serve the community outside its walls by:
Emergency Child Care
Provided free meals with Foodlink
Hosted Blood Drives
Offered virtual classes for the community to take at home
Supported employees through Employee Assistance Fund
Hosted COVID-Free Summer Camps
Held outdoor group exercise classes and opened our indoor pools for lap swimming
After reopening our doors in August 2020, the YMCA of Greater Rochester created Y School of ROC, a program for school aged kids who had not yet returned to school full time.
The YMCA transitioned the Lewis Street Child Care Center to the YMCA Center For Equity at Lewis Street to help meet the needs of the community.
2022
20th summer offering the YMCA Love-15 Urban Youth Tennis Program
Purchased 53 Lewis Street, and shifted the YMCA Center for Equity at Lewis Street to The Lewis Street YMCA Neighborhood Center
Purchased the Watson Homestead Retreat and Conference Center which became The Y at Watson Woods
Transitioned the Southwest Family YMCA to The Thurston Road YMCA Neighborhood Center
The Canandaigua Family YMCA became a part of the YMCA of Greater Rochester Association after the completion of a two-year management agreement
Sands Family Foundations gives historic $13.5 million gift to open new YMCA in Canandaigua, creating Sands Family YMCA
Ground broken at Sands Family YMCA
YMCA Camp Cory marks Centennial Celebration
The YMCA at Innovation Square opens partially with plans to have a street-accessible entrance and second group exercise studio.
2023
Ernest "Ernie" Lamour becomes President & CEO of YMCA of Greater Rochester
Partnered with the Town of Canandaigua to launch Camp Glacier Lake, held at Onanda Park.
The YMCA at Innovation Square fully opened to members on September 11 after opening in October of 2022.
The Maplewood Family YMCA Teen Center officially opens thanks in part, to the more than $2 million of Monroe County's American Rescue Plan Act (ARPA) Funding awarded to the YMCA.
Mickey Sands Child Care Center and Sands Family YMCA open September 5 and October 2 respectively.