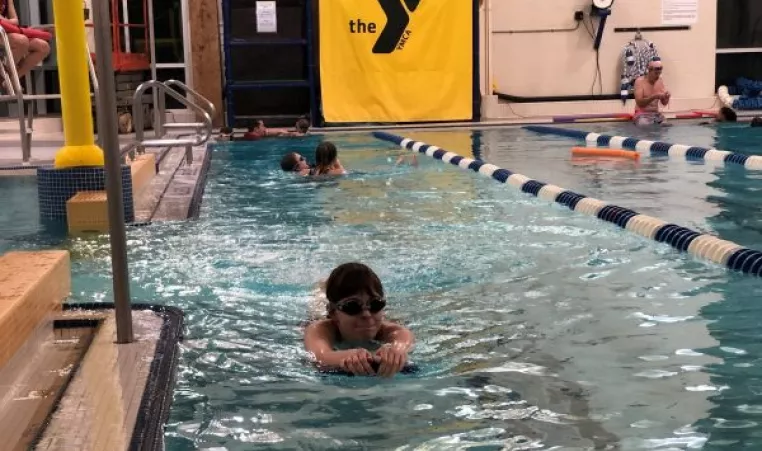 YMCA EXPANDING PROGRAM SERVICES TO PEOPLE OF ALL ABILITIES
NEW DIVERSE ABILITY SWIM LESSONS OFFERED FOR ADULTS
Every Monday evening, you'll find Jacqueline Johnson in the pool at the Westside Family YMCA.
"I love all the different strokes, backstroke and butterfly. And I like jumping in the pool," she said.
And her mom, Heidi, loves that her 21-year-old daughter is confident and safe around the water.
"I knew that having multiple disabilities, being in the pool was going to be especially important to her, especially having sensory issues and coordination issues," she said.
Jacqueline started taking lesson in a one-on-one setting but is now in a small group lesson.
"It's important for me to be able to do my own thing because I like to be able to do things at my own pace, not the same pace as everyone else because I can't move as fast as they can," Jackie said.
Small group lessons for adults with disabilities is something the YMCA of Greater Rochester saw a need for. It's why they have partnered with the Developmental Disabilities Giving Circle, a part of the Rochester Area Community Foundation. Their goal is to support new, innovative programs in the community for adults with disabilities.
Joyce Weir is a part of the Developmental Disabilities Giving Circle. Her adult daughter has cerebral palsy.
"We all have strong desire to make a difference and help improve lives of individuals that we know and love," she said.
NEW RELATIONSHIPS, NEW OPPORTUNITIES
Every year, the organization receives requests for grant programs. These programs aim to impact individuals of all abilities, with the potential to be sustained past the grant funding. The Y came to them with an idea – to offer small group lessons for adults with intellectual disabilities.
"It's exciting for us because it allows us to have an impact on projects and programs that are inclusive and community wide and not limited to disability population," Weir said.
Lessons are being offered, thanks to grant funding from the Developmental Disabilities Giving Circle, at absolutely no cost to participants.  Swimming can help individuals become active, develop new skills, gain confidence and have fun. It's something that is not being done widespread in the Rochester community, and the Disabilities Giving Circle recognized the importance of it.
"It's not just a proposal for inclusive swim lessons; it's really improving the mindset and the philosophy of the Y to be there for all and support all people. And it makes a huge difference to feel welcomed," Weir said.
Heidi, as an advocate for and parent of an adult with disabilities, agrees. Her daughter thrives in small group settings, and she's seen the confidence – in and out of the water – shine.
"Jackie thrives in a small group," she said. "She's become more independent and has really blossomed in these last few years with her swimming."
REGISTRATION
Individuals interested can reach out to the contact at each branch to sign up and learn more about Diverse Abilities Swim Lessons.