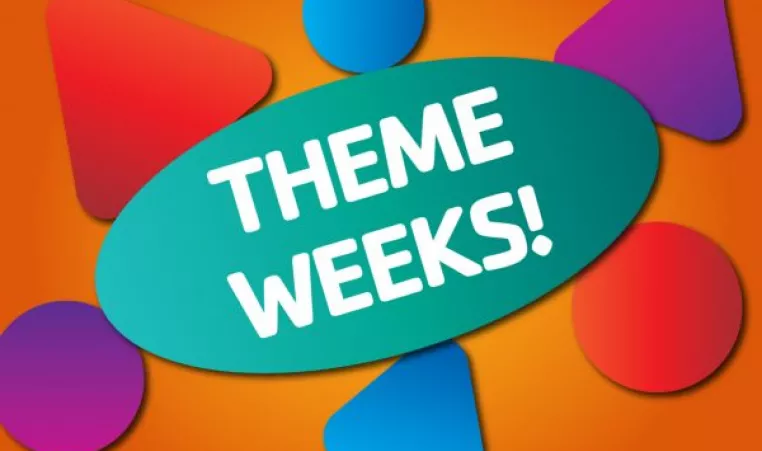 2023 Camp Theme Weeks
Every camp has exciting themes for each session of camp! Each week, the theme is unique and camp activities are tailored specifically to that themes, too. These help provide a one-of-a-kind experience for each camper.
The YMCA of Greater Rochester offers Day Camp at: Camp Arrowhead, Camp Bay View, Camp Cory, Camp Eastside, Camp Glacier Lake, Camp Northpoint and Camp Watson Woods.
Please note: The Summer Enrichment Program at Outhouse Park will follow different themes for summer 2023. 
| | | | |
| --- | --- | --- | --- |
| SESSION | DATES | THEME | DESCRIPTION |
| Session 1 | June 26-30 | Mario's Camp Adventure | The whole Super Mario Crew is coming to Camp and expecting a Super Mario Adventure! Bananas and Shells galore, racing down the rainbow road and all of its twists and turns! This week will have stops along the way for classic Mario Party Mini Games and powerups to work our way up the Grand Prix Leaderboard! |
| Session 2 | July 3-7 | Mission Possible | Your presence is requested starting July 3 to perform at your highest abilities to ensure that our latest mission, Mission Possible, is completed successfully. Failure is NOT an option. Remember, be discreet. You don't know who you can trust. See you there, agents. This message will self-destruct in 3... 2... 1... |
| Session 3 | July 10-14 | Wild West | Howdy Partners! Welcome to our old western town. There have been mountains of gold detected here and it's bringing in a crowd! Make sure to mine all the gold your little Sheriff hands can hold while it lasts. Remember, you're not the only ones trying to get rich! Protect your gold from the Bandits at all costs! |
| Session 4 | July 17-21 | Witchcraft & Wizardry | Camp has been transformed into Hogwarts School of Witchcraft and Wizardry for this exciting new theme. Dear Camper, We are pleased to inform you that you have been accepted into this session of Witchcraft & Wizardry. Campers shall be required to report to the Sorting Flagpole Ceremony upon arrival. Please ensure you come ready to learn about potions, mythical creatures, and flying 101. We look forward to receiving you as part of this new generation of magical camps. |
| Session 5 | July 24-28 | Color Wars | Yellow, Red, Green or Blue! Who will win? It's up to you! Pick your color and cheer loud and proud! Earn points by playing games and representing your color! But watch out, color creatures are hiding undercover. Gain points or lose them, it's a mystery! Take a risk with your fate, it's the only way to see. No team is safe and the win will come down to the wire. You'll have to help each other and see what team work can inspire! Without rules and order, this week could be a mess. The YMCA Core Values are your ticket to success! |
| Session 6 | July 31-August 4 | Operation: Earth | Wind, water, fire and stone. Mother Nature has lost all control of her elements! She needs your help to keep them in balance and allow Camp Earth's ecosystem to thrive. This session will test your wits as you battle these feisty elements. Don't worry, Mother Nature has your back! |
| Session 7 | August 7-11 | Year 3000 | It's now the year 3000, almost 1000 years into the future. What changes have been made? Who are these new, interesting "people"? What planet are we even on? We need all of you space time continuum travelers to hop in your time machines and get ready for a wild ride.  |
| Session 8 | August 14-18 | Once Upon a Time | The Great Fairy Godmother accidentally left her magic story book open and now all the fairytale creatures are running wild! They have turned Camp into a magical wonderland. We will need your help to get all fairy tale creatures back into the magical story book. |
| Session 9 | August 21-25 | Rumble in the Jungle | Grab your bucket hat and binoculars! During this week, you will explore the jungles of Camp to find the animals that lie within. The wise elephant, majestic lion, gargantuan gorilla, stealthy jaguar and laughing hyena - which animal will you choose? Only one will come out as true Ruler of the Jungle! |
| Session 10 | August 28-September 1 | Shipwrecked | All for one and one for all mateys! Here on this desert island washed ashore was a treasure worth more than your mind could endure. Find that treasure, you and your crew, and hold on tight to all the power it drew. But beware of the booby traps and fools gold that lay await throughout the land. Snag the treasure where X marks the spot and escape as the richest crew of all the sea! |
SEE ALL THEME REVEALS!