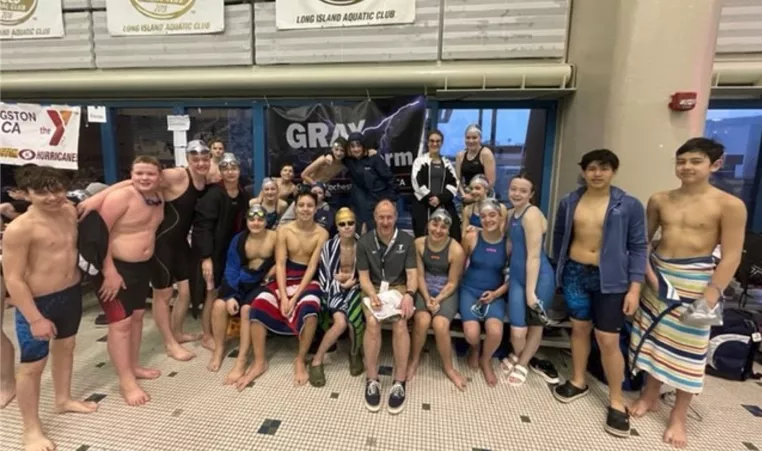 Rochester, NY – Emily Thomas, 16, has been swimming on a YMCA swim team for half of her life. She learned to swim at the Northwest Family YMCA when she was two years old. This week, she'll be competing in one of the biggest events – YMCA National Championship.
Her event is the 100 Breaststroke. In the morning of prelims during the YMCA New York State Championship, Thomas was .46 seconds away from the qualifying time. She ended up beating the qualifying time by .09 seconds.
"My parents told me when I got out of the pool, I shot out like a rocket," said Thomas. "It was pure adrenaline."
Thomas wasn't the only one from the GRAY (Greater Rochester Area YMCA) Swim Team to qualify for the YMCA National Swimming Competition. Jack Clark, 16, qualified in the 50 Free; unfortunately, due to an injury, he is unable to compete.
"It felt pretty great knowing that I had the opportunity to compete against and swim with some of the best in the nation," said Clark.
Clark learned to swim at the Maplewood Family YMCA and has been on the team since he was six years old. His mom was a swimmer and a coach in college, so the sport is important to his family. This was the first time qualifying for YMCA Nationals for both he and Thomas.
"Swimmers from our YMCA team go to Nationals almost every year," said Christine Hughes, GRAY Swim Coach. "Being back at this feels like we hadn't ever left."
This was the first "normal" season for Thomas and Clark since the start of the pandemic. The State meet was one of the first events to get canceled due to COVID-19 in 2020. And the following year, there weren't meets, only time trials. Both said that time off was hard and being back in the pool competing took some time to get used to, but the joy they have for being on the team came right back.
"When I joined the Y swim team, I had found my thing," said Thomas. "What made me want to be a member of the team was the people – my teammates, my coaches."
"I love swimming because it gets me in shape and helps my mental health," said Clark. "But the relationships you build at the Y swimming, with your coaches and teammates, are incredible. We all support each other inside and outside the pool."
Hughes has been coaching with the YMCA for 20 years. She said many of the swimmers on GRAY had amazing success, and many improved on their times and had personal bests during the YMCA New York State Meet in March.
"I'm part of a team of coaches who have a passion for swimming and want to make sure our swimmers always have that passion too," said Hughes. "The Y has a place for everybody on the team."
Learn more about YMCA Competitive Swim.