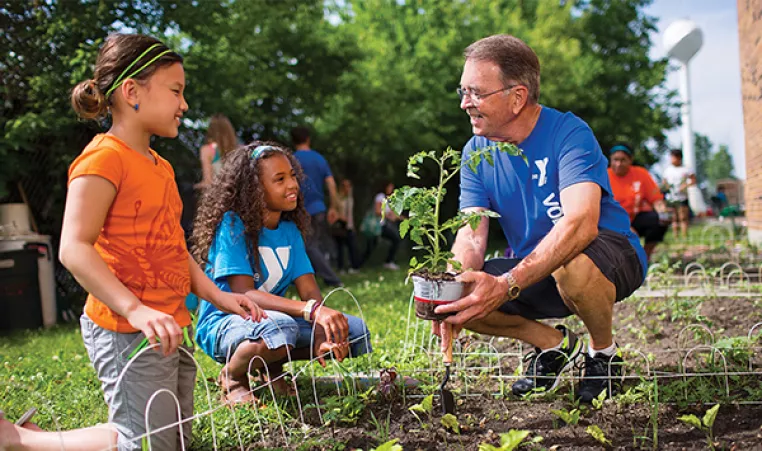 5 WAYS TO GET INVOLVED AT THE Y
Everyone has access to the YMCA's programs and services. No one is denied membership or program participation because of their inability to pay.
The Annual Campaign for Experience Scholarship makes this possible. Each year, volunteers work side by side with staff to make the Y's Annual Campaign a success. This unique collaboration brings people together and supports those who need it most. There are many ways you can become an Annual Campaign volunteer.
5 WAYS TO GET INVOLVED
1. SHARE INSPIRATION
What Y experience has inspired you?  Has the Y impacted your life or someone you know in a way that you are inspired to share?   Sharing your story is a powerful way to educate the community about the Y's mission.
2. SAY 'THANK YOU'
What is the best way that you have been thanked for giving a gift? Thank donors and other volunteers in meaningful ways by volunteering for the Annual Campaign.
3. GIVE TOURS
You know your Y, now you can share it with others. Give a guided tour of a branch or program. Deliver the message of the Y's great work!
4. NETWORK
One of the most essential roles a volunteer has is to expand the network of people who know the Y's work. Charitable contributions from your network address pressing community issues such as education with equity for kids in preschool and pre-k programs, chronic disease and obesity prevention, and a lack of safe afterschool and summer care for children of working parents.
5. SPECIAL EVENTS
The Y hosts dozens of special events throughout the year. Join a committee and work with other volunteers and staff to make the next event a success!
MAKE A DIFFERENCE
Would you like to be more involved in making a difference in your community? We invite you to become a part of the Y movement. Build a better us by volunteering for the Annual Campaign today.
For more information on volunteering and the Annual Campaign, please contact us.