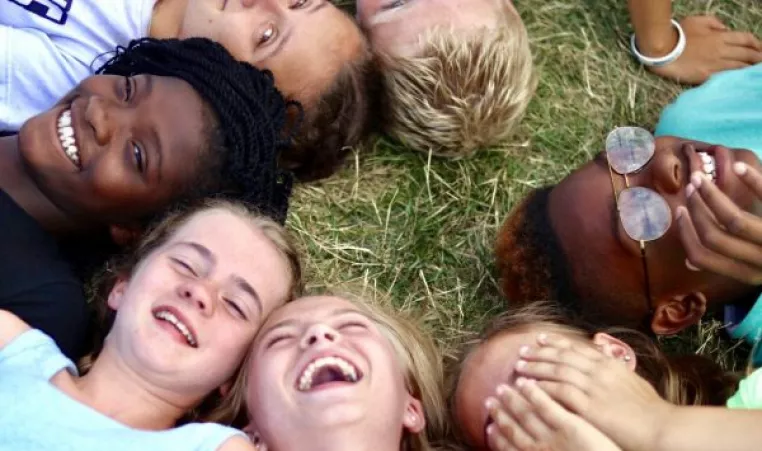 THE ABCS OF SUMMER CAMP AT THE YMCA OF GREATER ROCHESTER
WHAT YOU CAN EXPECT – FROM A TO Z – FOR THE BEST SUMMER EVER!
You've signed your family up, and you're ready to have the Best Summer Ever! There are plenty of activities you will be doing, and memories you will be making. But it can be a bit much thinking of all the fun and trying to plan it out. Here are your ABCs of Camp:
A is for Aerial Course at Camp Arrowhead
Skyhawk Tree Top Adventures at Camp Arrowhead is perfect for the thrill seeker. The course will have you swinging, balancing, and jumping.
B is for Bayfront Camp
It doesn't get much better than spending days along beautiful Irondequoit Bay! You can try a number of water activities at Camp Bay View.
C is for Camp Traditions
Whether it is flagpole, chants, or contests – there are plenty of traditions that you will be a part of at all of our camp locations. It is one of the best parts of summer camp!
D is for Diversity
Sports Camp. Preschool Camp. Family Camp. STEM Camp. Along Keuka Lake. In the Adirondacks. Our camps offer diverse settings and programs. There will always be something for everyone to do and see at summer camp.
E is for Electronic-free
Leave the cell phones, tablets, and other devices at home and connect with nature! YMCA of Greater Rochester's summer camps are electronic-free zones.
F is for Family
You'll make family memories when you discover new adventures away from your everyday stresses as a family. Come as a family for Family Camp.
G is for Goals
Make it your goal this summer to collect as many Character and Achievement Tags by demonstrating the Y's core values, or trying something new!
H is for Horses
You will have the opportunity to go horseback riding only at Camp Gorham. Camp Grohman is part of the Certified Horsemanship Association.
I is Imagination
Let your imagination run free when you spend a week at camp. From DIY Camps to Animation Elective, STEM Camps to Art Camps, YMCA Summer Camps have something for all types of campers.
J is for Joy
It is what you will see on the faces of your children when they come home – or what you'll see in the family photos you will have from spending camp together.
K is for Kayaking
Jump in your Kayak at Camp Cory and Camp Bay View and enjoy the views of Keuka Lake and Irondequoit Bay.
L is for Learning
Our Summer Quest 2021 is all about combining daily physical activity with lessons in math, literacy, STEM and music. Kids are always learning some new in a fun way!
M is Marshmallow Incident
This is just one of our themes for Theme Weeks throughout camp. Every week, the theme is unique and camp activities are tailored specifically to that themes. Check out 2021's Theme Weeks here.
N is for Nature
No matter which camp location you attend, you will be able to unplug and unwind in acres of land, spend hours on lakes and rivers, and enjoy the sights and sounds of the great outdoors.
O is for Olympics Week
You don't have to wait until the Olympics kick off to enjoy the Modern Games! During sports camp, campers will spend the week practicing, and then on Friday will "compete."
P is for Preschool Camp
Preschool Camp introduces children to the all of the exciting experiences and opportunities that summer camp can offer by exploring and growing through age-appropriate activities.
Q is Quality Time
Campers will enjoy quality time with their friends and fellow campers surrounded by nature, fun, and exploration.
R is for Rain or Shine
We all love the summer sunshine, but there are days when the clouds and rain come. In those cases, we have fun activities planned.
S is for Safety
The safety of our campers is always our top priority. With the ever-changing world we are living in, the Y continues to make sure our kids can be kids – safely – at camp. You can find update policies on masking and social distance here.
T is for Thunderbird
The Thunderbird mascot is at the center of much of Camp Cory. The Thunderbird is where camp meetings take place – you'll get to know Thunderbird pretty well.
U is for Underwater
Whether you're in the lake or in the pool, you will spend plenty of time in the water at our summer camps. Remember – you'll have to pass the deep end test to swim in the deep end!
V is for Values
Respect Responsibility Honesty Caring Inclusion – those are the five Core Values of the YMCA of Greater Rochester. All are incorporated into the programs and events that we have.
W is for Watson Homestead
Camp Corning takes place at the historic Watson Homestead which boasts miles of hiking trails, miniature golf course and a climbing tower.
X is for X Factor
A big X Factor in our summer camps is that we provide before and after care included for free! If you need to get to work before, or stay after, normal hours, we provide care for your children to help you meet your time commitments.
Y is for Youth Development at the YMCA
The Y nurtures the potential of every child and teen by supporting their unique youth development journey through holistic programming. From cradle to career, the Y provides all youth with the tools and resources they need to succeed in life.
Z is for Zip Line
Take to the skies at the different zip line courses we have at our camps. Enjoy the zip lines at Camp Northpoint, Camp Arrowhead and Camp Bay View.
START PLANNING YOUR SUMMER OF FUN IN THE SUN AT YMCA SUMMER CAMPS!