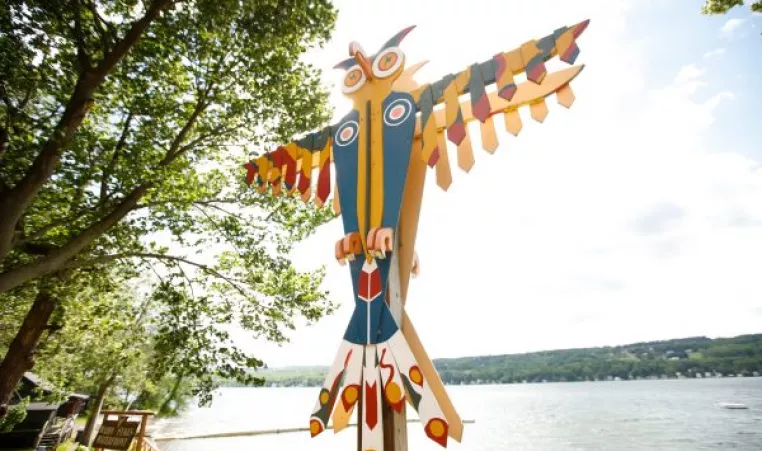 CAMP CORY CELEBRATING 100 YEARS
OVERNIGHT CAMP MARKING A CENTURY OF IMPACT
Penn Yan, NY – For more than 100 years, YMCA Camp Cory has been making a difference in the lives of campers and families along the shores of Keuka Lake. This August, the YMCA of Greater Rochester will celebrate a century of service with the Camp Cory Centennial Celebration.
"Marking 100 years here at camp is truly incredible," said Pat Foster, Executive Director, YMCA Camp Cory. "I have had the absolute privilege of seeing Camp Cory transform, from my times as a camper and to now leading the camp and know how meaningful it is to celebrate a century of making an impact in this community and in lives of everyone who comes here."
The Centennial Celebration is an opportunity for alumni and former staff from throughout the decades to come back to Camp Cory, relive those memories and celebrate the life-long friendships they made. One of those campers-turned-staff is Chris Dudley. He worked at Camp Cory for eight summers and is currently a member of their Board of Management.
"We are celebrating 100 years of impact and planting the seed for the next 100 years to come," said Dudley. "This is a unique opportunity to connect with camp and see how it has changed and responded to the evolving needs of our youth."
The Centennial Celebration is also a way for the community to come learn about camp and experience the magic for themselves. The weekend will have something for all ages to take part in and enjoy, including campfires, tours of camp, exhibits on Camp Cory's history, and of course, some of our campers' favorite activities. Dudley has been helping to plan the Centennial Celebration. He's looking forward to bringing his family, including his three children, for the weekend.
"Camp Cory blends the influences of history and traditions of camp, while creating with social experiences independent from your day-to-day life," said Dudley. "Everyone feels included."
A TRADITION A CENTURY IN THE MAKING
In 1920, what was known as the Rochester YMCA Camp relocated to Keuka Lake. The following year, in the summer of 1921, Camp Cory was established. Camp Cory got its name for Lt. Lawrence Cory, a Rochesterian killed in France during World War I.
In the century since opening camp, Camp Cory has continued to grow. What started as a few cabins and boathouse that welcome 91 boys their first year, now includes a Day camp and multiple villages, including the brand-new Senior Village for Counselors In Training (CIT). Camp Cory serves thousands of children and teens every summer and welcomes campers and staff from all over the country and the world.
"There have been so many people over this past century who have made camp such a special place for all who come here," said Foster. "We could not be more excited to welcome the community out, and our alumni back, to camp to celebrate."