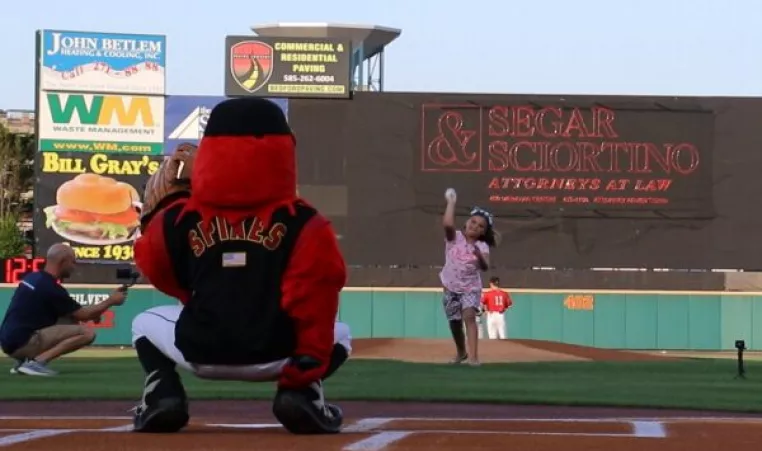 CAMPER RECOGNIZED FOR STANDING UP, SPEAKING OUT
CAMP LESSONS OF FRIENDSHIP, ACHIEVEMENT AND BELONGING COME TO LIFE
Hope Tompkins is not afraid to speak her mind.
"Her second-grade teacher always said that she was outspoken," said Hope's dad Kevin Tompkins with a laugh. "I think the word he used was 'highly verbal,' so she's always been willing to speak up about anything."
And that's exactly what she did one afternoon at YMCA Camp Northpoint. Hope was among a group of campers that were gathered together to learn about bullying and how it can affect kids their age. The "highly verbal" 10-year-old, raised her hand.
"I can't remember exactly what I said, but we were told if we're bullied ourselves to tell someone else," Hope said. "But I said, 'also, if you see someone getting bullied, you'd tell, right?'"
"Hope probably didn't realize it, but her words made more of an impact with the campers and the counselors than mine did," said Jason Brannigan, Senior Director of Camping & Youth Development at the Northwest Family YMCA.
Each day at camp, campers go over 10 rules. One of them is "be kind." Hope's counselors said she exemplifies that every day.
"Hope is always the kid that is welcoming to the other kids. If she sees someone sitting out, she'll invite them to play with her," said Kelly Lagnese, a Team Leader at Camp Northpoint.
"It wasn't surprising for her to say it, but it was surprising for a 10-year-old in general to say something to that volume," said Gabby Logiudice, a Team Leader at Camp Northpoint. "She was really not shy to say how she felt."
Hope wasn't shy to say how she felt because she said she knows what it's like to be bullied. She wanted to encourage others think about how a person would feel before they say or do something mean.
"A lot of people were saying stuff like, 'you're smart,' and 'that's good of you to say that'," said Hope. "Somebody can always be your friend and then can always end up helping you."
Hope's actions sparked more than just a conversation and change at her camp. Shortly after, an opportunity for a member to throw out the first pitch at a Rochester Red Wings game came about. Brannigan asked Hope. Her family and counselors were on the field to see her throw that pitch to Spikes waiting for it at home plate. It is a night that she, and all of them, will not soon forget.
"I'm extremely proud of her. She's always been my 'Hope' and she always does bring hope," said her mom, Ellen. "She not only learned to reach out to others and not care how others are thinking about it, but to empathize with how that person's feeling."