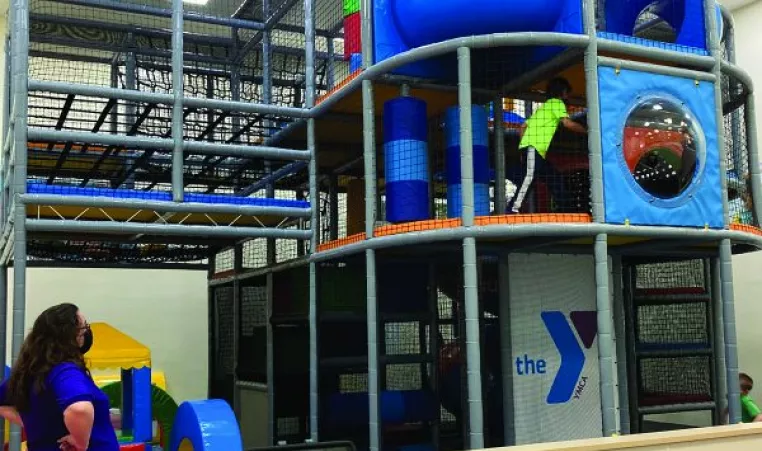 THE CORNING FAMILY BRANCH'S ADVENTURE CENTER IS NOW OPEN!
THIS PROJECT IS REIMAGINING SERVICE TO FAMILIES IN THE CORNING AREA.
The Corning Family Branch is excited for a new chapter in our service to the Corning Community! With a thoughtful and detailed planning process, we have transformed part of our branch into an incredible Adventure Center to serve children and families in our region. An Adventure Center can best be described as an indoor playground, with climbing elements, soft play, and much more.
ADVENTURE AWAITS!
The Adventure Center is the place where our members and their families come to get active and have fun.  As always, check our schedule for the most up to date days and time.
BUILDING EXCITEMENT
When we started this planning journey, we knew that we wanted to serve our largest population of members – our families – while still preserving spaces that our many adult members can enjoy. After significant tracking of usage, it was determined that the squash court was our most underutilized space in the building. Therefore, we made the decision to reconfigure the space for a Family Adventure Center. With the addition of the Adventure Center, one racquetball court and our squash court have been decommissioned. Two racquetball courts remain in operation and are able to be reserved for use.
With the changes we have all faced with this ongoing COVID-19 crisis, our belief in this project has grown even more, as children and families are in even greater need of fun, safe, and healthy activities. We were fortunate to secure funding for this project before our closure and the YMCA is pleased to be supported by the Corning Incorporated Foundation, which has awarded the YMCA a $50,000 grant for this project. The YMCA has worked closely with the Corning Foundation and is grateful for their belief in this important project. Additional funding is being made through the Corning Family Branch's endowment and operational resources through the YMCA of Greater Rochester.
MEDIA COVERAGE FROM RIBBON CUTTING