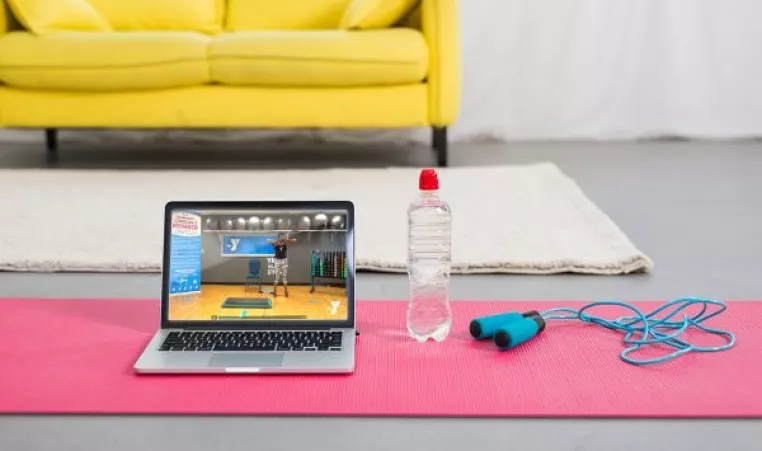 FIVE TIPS TO HELP YOU EXERCISE AT HOME
With many of us trying to navigate the balance of busy schedules and still finding much of our days spent at home, we at the YMCA of Greater Rochester thought it would be helpful to share some tips that can make exercising at home work for you.
Here are five things to keep in mind:
MAKE SURE YOU HAVE A CLEAR, DESIGNATED SPACE
Exercising in your home doesn't mean you need to have your own home gym. Simply make sure you have enough space for your workout by moving furniture, rugs or any other slipping or tripping hazards.
DON'T FORGET TO WARM UP AND STAY HYDRATED
Stretching before and after your workout is important, but it's something that a lot of us tend to forget. A simple warmup, like jumping jacks, can get your blood pumping and loosen you up. Equally as important is staying hydrated both throughout your exercise session, as well as after your workout to help promote muscle recovery.
REMOVE DISTRACTIONS
We can get distracted easily by all that is around – especially when we live, work and play all in the same space. Making sure you are able to focus on your workout, even if just for 15 minutes, can help you get the most out of your workout or class.
KNOW EQUIPMENT NEEDED AND WHAT IT CAN BE REPLACED WITH
Make sure you have what you need at the start of your exercise or class. If you're taking a class from our video library on our YouTube page, instructors will share the equipment needed at the beginning of the video. We have many classes and exercises that can be done with body weight only (no equipment).
Helpful tip: If you're looking to use equipment, but do not have hand weights and barbells, soup cans and water jugs and brooms, respectively, make great replacements.
MAKE IT PART OF YOUR ROUTINE
Come up with a schedule that works with you. If you can commit to two days, that's great! However many days you are able to do, make sure it's something attainable for you to stick to. Set reminders in your phone to help you keep the schedule.