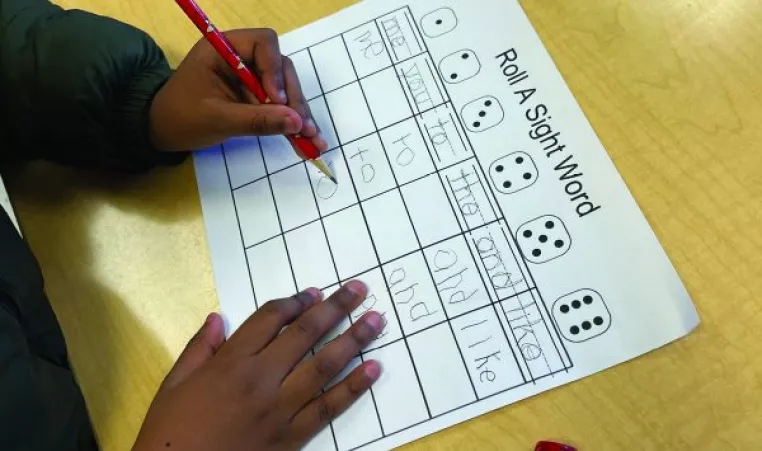 LEARNING LABS AT YMCA CENTER FOR EQUITY BRIDGING VIRTUAL GAP
Tyshawn is in kindergarten. When he came to the YMCA Center for Equity at Lewis Street at the start of the school year, it was his first time in any sort of learning environment. He had a tough time identifying shapes and colors. Writing out letters and numbers was a challenge too. Learning virtually only added to his struggles.
"Many people have the misunderstanding that youth understand how to use technology because they are young," said Loren Montrallo, Program Director at the YMCA Center for Equity. "However, this is overwhelmingly not the case for most of our youth here. For many, it was their first time using a laptop and performing educational tasks on the computer."
Staff at Center for Equity work with 200 students every week. Many, like Tyshawn, benefit from regular, one-on-one interactions with the staff. Extra Chromebook are available to students who need them, and each classroom is themed around each grade's curriculum.
"We made sure to create classrooms that felt and looked like school classrooms to promote learning and social and emotional learning," Montrallo said. "Staff create stations in their rooms designed to help further their learning through basic concepts within the units scholars are learning in school."
But the learning doesn't stop once the virtual school day is over for the kids and teens at the Center for Equity. They grab a healthy snack and head off to their Enrichment Club.
An Enrichment Club blends learning and fun, with focus areas including Art, STEM, Urban Gardening and Healthy Living. Each scholar chooses their own.
"We take the time to make sure that our out-of-school time Enrichment Clubs are aligned with what our scholars are learning," said Montrallo. "When we can help make learning fun through guiding enrichments, they are learning through play and that is important."
Montrallo said each of the students will select one Enrichment Club and stick with it for four weeks, focusing on project-based learning and making connections with community partners.
"Relationship building is key for scholar success," said Montrallo. "Every day being in person has really made all the difference. We're able to provide a safe, caring and enriching environment our scholars to learn grow like they would have if they were able to attend school."
That certainly is the case for Tyshawn. Staff created activities for him to and other scholars to learn their shapes, colors and words. He's able to identify them and his writing has improved. He's excited to learn; and for Montrallo, that's what he takes the most pride in.
"Whether it is learning their ABCs or completing a history project, the smile on a young person's face when they complete something challenging is why we do what we do," said Montrallo.  "The most important piece though is having the youth themselves take pride in the work that they are doing each day when they are here."