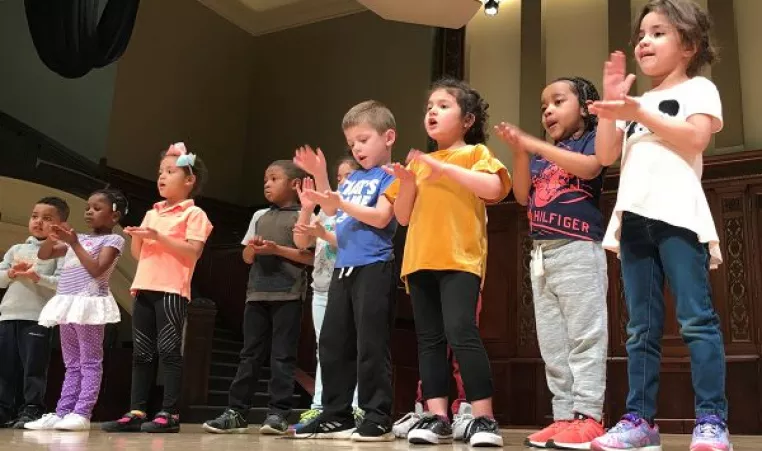 MAKING MUSIC, MAKING STRIDES
It's a Tuesday morning. The four-year-olds and five-year-olds from the Maplewood Family YMCA's Universal Pre-Kindergarten class are at Hochstein School of Music and Dance for their weekly lesson.
They're singing, dancing and laughing on stage.  But there's also something going on that might not be obvious.
"A lot of our kids might not get [understand] it another way, but they get do this way. We've had a lot of kids start reading because of this."
Sherry Clifford, Director of Youth Development at Maplewood Family YMCA, sees her students learning their colors and communicating better. And a lot of what they get to do at Hochstein, corresponds with curriculum in the district.
"I watch what they're doing, what they're succeeding in and what might need work. I see the growth and enjoyment they have."
For the past eight years, Hochstein and the YMCA of Greater Rochester have been partnering to bring music classes to the students at the urban branches, completely free, thanks to the Making Music, Making Strides program.
It started with a board member at the Lewis Street YMCA Child Care Center. He had two sons taking lesson at Hochstein, and he wanted to see the kids at the Y have the same opportunities. Dr. Peggy Quackenbush, President and Executive Director of Hochstein School of Music and Dance, helped make it happen. The program has been able to continue because of financial support from organizations and foundations in the community.
"We're opening a window for them to something they might not get to experience at this young stage. I feel so happy with our partnership. I think everybody believes in the value in it."
Dr. Quackenbush calls the benefits of music and movement at a young age astronomical.  She said it opens a whole new level of learning. Without realizing it, the students get lessons in taking turns, and how to listen and follow directions during group activities.
Grace Adams, teacher of the Making Music, Making Strides, sees that growth.
"It is amazing. They come in not so socially or self-aware. And I see the social ques they gain, like empathy and awareness."
Clifford sees some of her students coming out of their shells. She knows without this program, these children may not experience a music class because the arts are often the first thing cut from school budgets.
"We're making a connection. And giving them a way to express themselves."
On Tuesday, April 30, the students at Maplewood will be joined by students from Carlson MetroCenter YMCA and Lewis Street for a special concert. It starts at 6:30 p.m. at Hochstein. It is free and open to the public.