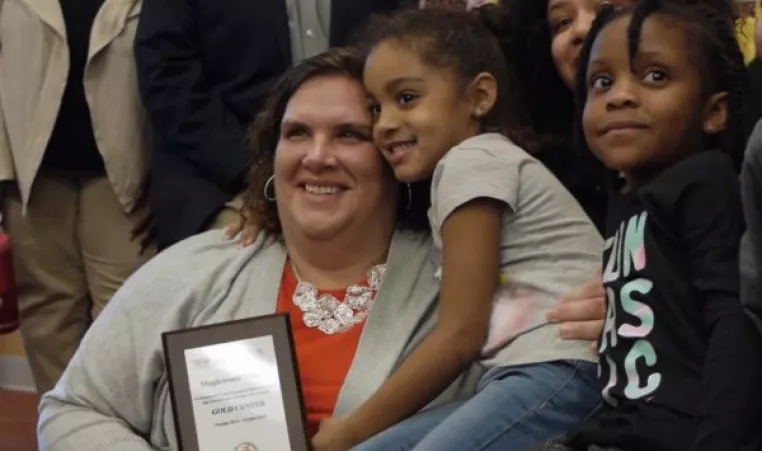 AWARD-WINNING PROGRAM CREATING HEALTHY HABITS FOR LIFE FOR STUDENTS AT MAPLEWOOD
If you think that you need a cake to have a birthday party for four and five-year-olds, you've never celebrated with the Universal Pre-Kindergarten class at Maplewood Family YMCA.
"We switched party treats to healthy options," said Sherry Clifford, Director of Youth Development at Maplewood. "We don't focus on the food; we focus on the kids. They don't even miss it because they get excited for getting 'Happy Birthday' sung to them."
The shift in focus is thanks to Healthy Way to Grow. It's a program that the American Heart Association created as a way to reverse the childhood obesity epidemic. They've been a part of the program since 2014.
"It was about looking at policies and changing them," said Clifford.
The changes came by way of lesson planning.
"When we read The Hungry Caterpillar, we talked about how he got a tummy ache because he didn't eat the right food. When they play kitchen, they use the foods they learn about."
They spend more time in the garden and the children are included in meal time prepping. Clifford even sends information home, keeping parents in the loop on what's happening and how to make healthy choices when they aren't at school.
"You can't just talk the talk, you have to walk the walk. And we're walking."
They're doing more than just walking. They are being more active together.
"We teach the kids to be more active by actually being more active ourselves."
WINNING GOLD (AGAIN)
What they are doing, has gotten the attention of the American Heart Association. There are more than 300 centers in the program. Maplewood is one of four awarded gold for their commitment this year – their fourth award since joining the program.
"It shows that as the YMCA, we're not just saying we're for healthy living, we're showing it all aspects of our programs."
To be in the gold standard, Maplewood has to follow guidelines for the Wellness Policy in following categories: nutrition and physical activity education, food and beverage practice and behavior, and screen time.
"To get gold again pushes me to think about what we're doing day in and day out," Clifford said.
Clifford can recall dozens of success stories – from kids eating strawberries for the first time to choosing salad for lunch and asking for seconds – because of this partnership.
"We're working to help them make healthy choices every day now that builds a foundation for a lifetime."