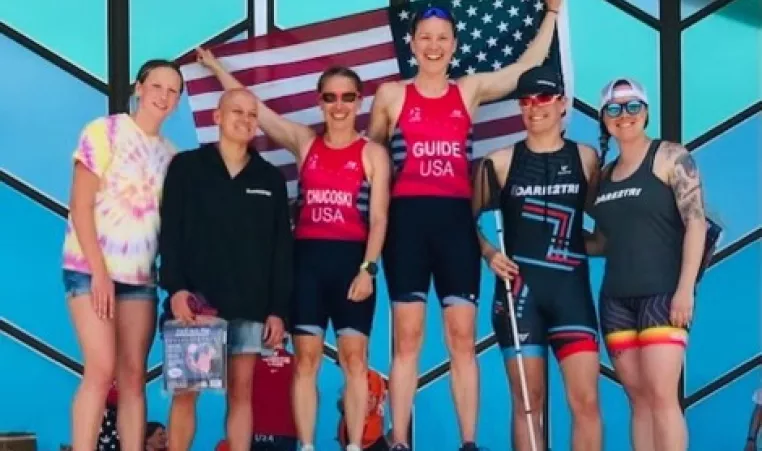 Corning Family YMCA Member Training to Make Team USA for 2024 Paralympics
Corning, NY – Almost every day, you'll find Deborah Chucoski at the Corning Family YMCA. And if she seems focused when she's there, that's because she's got a big goal – one of Olympic proportions.
"I'm training to make Team USA, the Paralympic Team in 2024, for USA Paratriathlon."
Chucoski was diagnosed with Stargardt's disease when she was 14 years old. It's a condition similar to macular degeneration where she has no central vision. She had always been athletic and, up until her diagnosis, had wanted to serve in the military.
"Once [I was diagnosed], I knew there were two paths. I am a very, very strong believer so I knew that God was going to set me down one of these paths. So, I can't represent and defend my country in the military, but this is kind of my way to be able to represent my country."
The paratriathlon consists of a swim, a bike and a run – in that order. Chucoski has a guide tethered to her during the swim and run, and then in the front of the bike for that portion; they are in constant communication throughout the entire race.
"It's very freeing because I've always been athletic, so the sky's the limit in how much I can push myself knowing that someone is next to me as devoted as I am to the sport to help me go to the Olympics."
Her training consists of 13-day cycles, where she'll focus on two disciplines each day. She lives one mile exactly, from her door to the door of the Y. She comes with her guide dog, Imelda, early in the morning and then again later in the day, utilizing child watch for her two young daughters.
"The Y community, my church community, they're just so supportive. And that just helps those 4:30 alarms make it a little bit more worth it."
In fact, Chucoski said it was a member of the Corning Family YMCA that competed alongside her in her first paratriathlon. It's another member that let her borrow a tandem. And it's another member that helps her safely get to the Y when it's snowing.
"A lot of athletes say, 'it takes a community,' and it absolutely does," said Chucoski. "It's not just me getting up, it's my husband sacrificing, it's my kids sacrificing, it's the YMCA helping, it's the church community helping. It's everybody that helps me and my guide."
Chucoski is currently competing in numerous international races to get enough points to qualify. By the end of June 2024, if Chucoski is ranked ninth or higher in the country, she will earn her spot on Team USA. She recently took home bronze in the World Triathlon Para Series in Montreal and placed first at nationals in Long Beach California.
Chucoski is tracking her journey on Instagram and sharing her progress along the way! We encourage you to join us in following and cheering her at @ParaTriDeb.