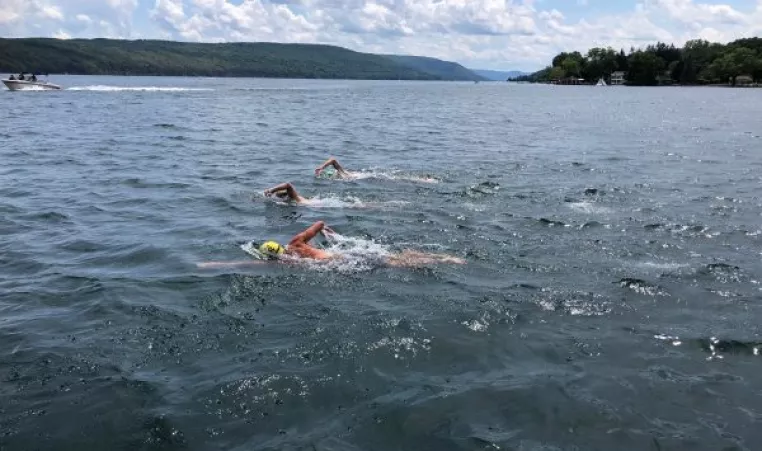 MY Y STORY: HENRY'S REASON TO SWIM
MEMBER SWIMS FINGER LAKES, FUNDRAISES FOR SWIM LESSONS
Henry Smith, 17, has been swimming practically since he was born.
"I learned to swim at the Monroe YMCA in the 'Mommy and Me' classes," he said. "Most people think swimming is an individual sport, but everyone is constantly pushing each other to do their best which I like."
It's also what he loves at the YMCA, where, again, he's been a member practically since he was born.
"It's a great community. I've been going my whole life, but still meet a new person every month and start a conversation."
Smith swam with the City Waves team at the Maplewood Family YMCA before joining his school team at McQuaid Jesuit High School. He's entering his senior year where he must complete a Capstone Project – volunteering for at least 25 hours with a focus on serving "the poor, marginalized or under served."
"It's always been a goal of mine to swim the Finger Lakes," he said. "My mom came up with the idea to somehow turn it into my Capstone Project."
So Smith decided to combine two things that have been influential in his life – swimming and the YMCA of Greater Rochester. He turned his swim across the Finger Lakes into a fundraiser for the Y, supporting aquatics departments at the branches located in the City of Rochester.
"I've always taken it for granted the fact I know how to swim. I did research and found numbers of adults who don't know how to swim, and it was shocking. I wanted to make it easier for people to learn to swim, and not having to pay, or not have to pay as much, would really help."
He and a teammate started swimming the Finger Lakes on Saturday, July 11. First with Otisco Lake, then wrapping up their swim on Sunday July 12 on Conesus Lake. Smith said he was exhausted, but proud of accomplishing a personal goal – and raising money for something so important to him. He set out to raise $750; he currently has raised more than $3,400.
"It makes me feel great seeing the amount of support from the community," Smith said. "The world is put in a bad light right now, but I learned that if you have a good cause and message, people are willing to help you."
The YMCA of Greater Rochester knows how important it is to make sure as many people as possible know how to swim. We are grateful to have members like Henry Smith who also understand that and are committed to making it possible.