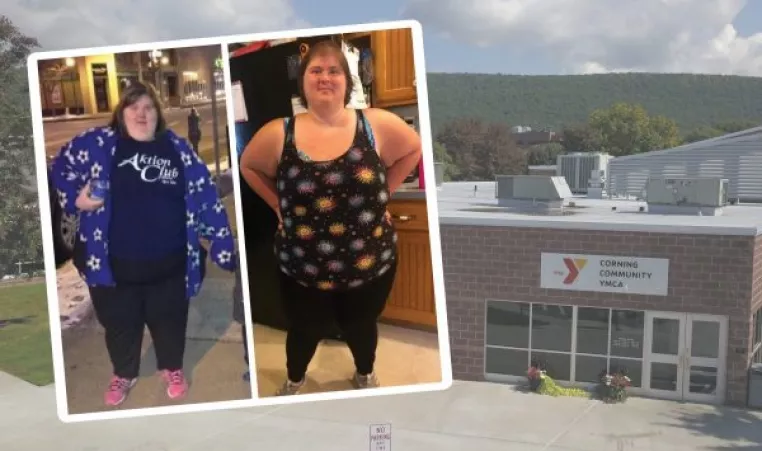 MY Y STORY: KARI'S PROGRESS
HOW COMING TO THE Y HAS IMPROVED HER HEALTH, LIFE
Kari Morse was not a woman on a mission when she joined the Corning Family YMCA in 2019; her family, however, was. They were looking for a place where she could go to get her health back on track.
"Her doctor told us she wouldn't live long with aspiration pneumonia," said Diana Oliver, Kari's mom. "So we knew we had to get her weight down."
So Diana had Kari join the Y. She'd come in a few days with her support staff, but then one day something in Kari clicked.
"My Kari started talking with staff, particularly Kari at the Y, about how to be healthy. Now, she's just determined."
We first shared Kari's story in December of 2019. She went from coming to the Y a couple days to five days a week. Her mom says the staff at the Y has helped her learn how to truly live a healthy lifestyle. She takes a variety of classes, to exercise different muscles of her body, like ReFit, SilverSneakers and aquatics – where she has built friendships with fellow class participants. Along with exercise, Oliver says Kari is even eating better.
"She has changed her lifestyle," Diana said. "She knows her portions. And she's eating salads and veggies when she never did before."
Now, nearly two years after first catching the fitness bug, Kari is down 100+ pounds – and still going strong on her mission to keep it off.
"It has been amazing to watch Kari along her journey," said Gail Hostuttler, Executive Director at Corning Family YMCA. "I know I can speak for our entire team – we are incredibly proud to see how far she's come along her journey. She's a special member who is always bringing so much joy to everyone when she is here."
Diana is proud of her daughter, too. She's watched as Kari has worked hard to improve her health – and found a safe and encouraging place to do it.
"Everybody knows her, and she knows everybody," Diana said. "When I go with her, people always come up and tell me how much they miss her when she's not here. She's found her community at the Y."