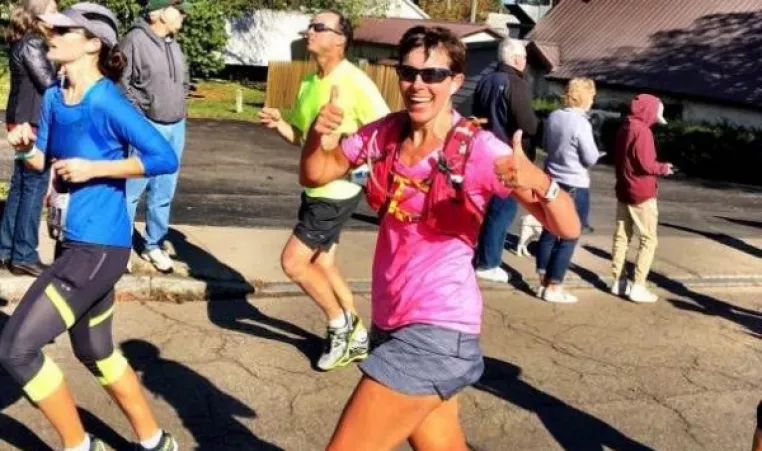 MY Y STORY: KELLY'S MARATHON JOURNEY
HOW KIDS MARATHON SPARKED A RUNNING PASSION
'You're always stronger than you think.'
It's a common thought many runners have. It's something Kelly Knight discovered a decade ago.
"People would say, 'are you a runner?' and I'd say, 'I can't run.' I never thought of myself as a runner."
That was until her son, then eight-years-old, signed up to run in the Bay View YMCA Kids Marathon.
"I started to go to practices at Camp Arrowhead with him," she said. "When they would go run for their quarter mile or half mile into the woods, I'd run with my son and I remember thinking, 'I just ran a half mile.'"
That's when Kelly found that she enjoyed running and called it a confidence booster. She decided that after Kids Marathon with her son, she'd try running a race on her own.
"That summer I thought, 'I'm going to run the Turkey Classic.' That was my big goal, a five-mile run. After that, I thought, 'I can do five, why don't I try the Rochester half.'"
And that's what she did the following year. The year after that, she ran her first full marathon. She's now run a total of nine marathons, and five ultramarathons.
"The Y really has been a big part of running for our family."
Kelly and her family have been members of the Southeast Family YMCA for more than 16 years; she even served on the board and her kids work at Camp Arrowhead. They have encouraged people to join them in their running journey with the Y, with programs like the 13 weeks to 13 miles.
Whether it's participating as a family in Runnin' of the Green or being able to run along the indoor track at our branches, Kelly said the YMCA of Greater Rochester has fueled their fire.
"Running has definitely changed my life," Kelly said. "And it's all because of Kids Marathon."