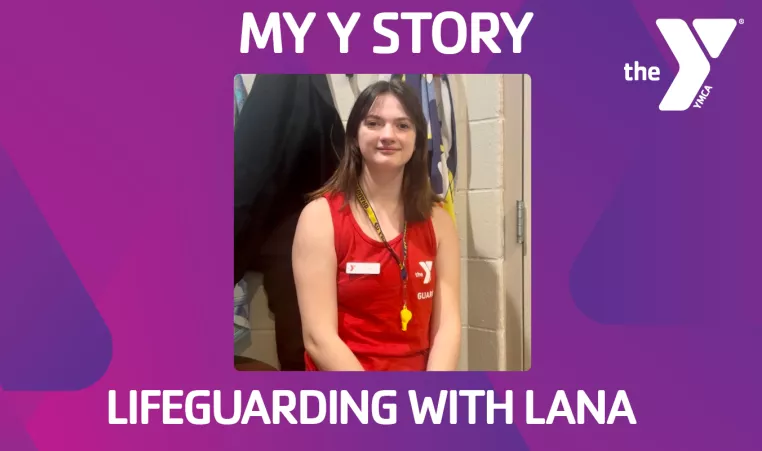 Have you ever wondered what it'd be like to be a lifeguard? Lana's here to explain!
Lana works at our Canandaigua Family YMCA and has been lifeguarding there since September. While taking a gap year from college, she figured she'd lean into her love for the water.
After beginning to swim in fifth grade, Lana swam competitively for her middle school and high school in the Honeoye Falls-Lima Central School District. Although she enjoyed competing, Lana gave up her time as a varsity athlete to take on more lifeguarding duties.
Safety is most important at the Y and earning certification to patrol the deck is step one to becoming a lifeguard. Lana was able to receive two certifications — one in lifeguarding and the other in waterpark training. These were crucial in her gaining experience on deck before the Y; not only did she lifeguard at her high school pool, she was able to work two summers at Roseland Waterpark. Now that she's donning the red pinnie, she shared just how things happen when reporting for duty, from the start of her day to patrolling the deck.
"I usually get here around 8:30 [am]. … We have lap swim, which we have a lot of the same people coming in," Lana said. "It's very fun to talk to people and get to know them."
Once 9 am hits, Lana and her fellow lifeguards pull the lanes to make way for water fitness classes. Lana, of course, ensures that she is scanning the water and keeping an eye out for members first, but she also enjoys being on duty during water fitness classes too because she gets to see the instructors and members getting active and moving around.
Another round of lap swim comes in from there, which Lana has a blast with because it's at this time when kids often come into the pool.
With all those members of varying ages, it's all about finding "safe chaos."
"That's what we like; controlled chaos," Lana said with a smile.
If you've ever considered being a lifeguard, Lana had two important pieces of advice to share. First, keep an eye out for newer swimmers who are hitting the waters for the first time. And second, always be friendly. With so many people in the pool at once, kindness goes a long way to keeping everyone happy – and safe.