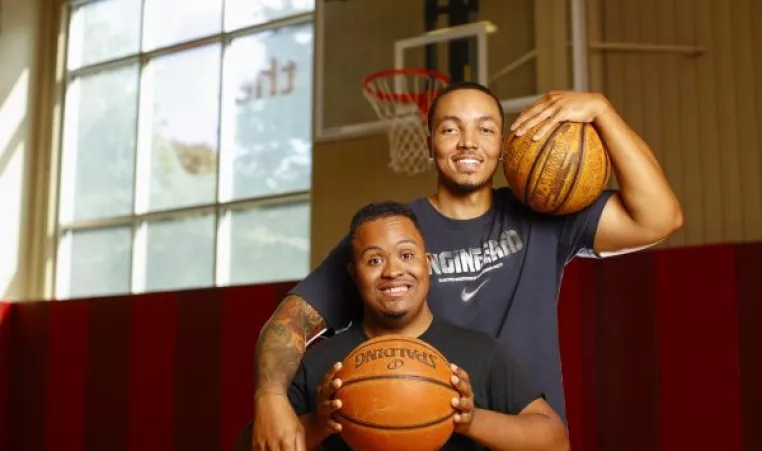 MY Y STORY: MARC & JUAN'S BROTHERLY LOVE
HOW THE Y HELPED THE SIBLINGS BOND OVER HEALTHY LIVING
There may not be another two brothers in Rochester, or the world, quite like Marc Carrasquillo, 22, and Juan Solis, 27. The brothers are two of six siblings in their family, but they have a very special bond.
"We've always been close, we've always had a good relationship," Juan said.
Juan is the big brother. And as the big brother, he teaches Marc a lot.
"I learned basketball from this one," he said pointing to Juan. "He taught me how to dribble, spin and shoot a basket."
The two come to the Maplewood Family YMCA for a little one-on-one. Juan likes being able to share similar interests with Marc. And they recently found something else to bond over – a healthy lifestyle.
"I put him on my diet," Juan said.
And he said it was tough at first. Marc weighed about 261 pounds. He started eating right, and sleeping right – because as Marc says, "sleep is important." Now, he's down to 168 pounds.
"I'm strong, I'm healthy, I can move, I can talk," Marc said. "I can do everything."
"I want to make sure he gets to experience growing up and living his youthful years," Juan said.
Juan and Marc work out together in the Wellness Center and then head to the pool for a swim, and a race. If you ask Marc who wins when they race, he'll tell you with a big smile, "I do!"
But it's more than just a place for them to work out and shoot hoops.
"It's helpful because it's a neighborhood Y," Juan said. "People know us by name. And we know the staff by name. It feels like you have a relationship with everyone in here."
Having that relationship with the staff and other members is great. But the relationship the two count on most is the one they share together.
"I support him, and he'll support me," Marc said with a smile at his brother. "We're on the same team."