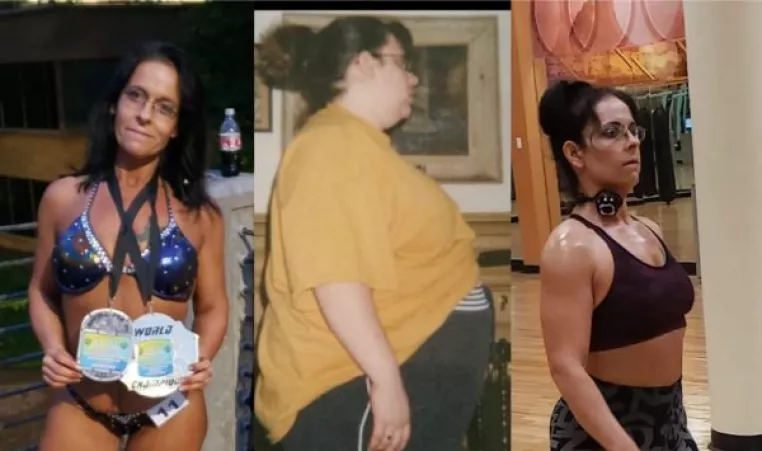 MY Y STORY: ROSEMARIE'S SAVING GRACE
HOW THE YMCA HELPED ROSEMARIE FEEL SAFE, FIND A NEW PASSION
Every day, Rosemarie Miller says she makes the decision to wake up and be happy. And every single day, you will find her at the Corning Family YMCA. Actually, you'll see her there in the morning and in the evening.
"The Y is part of my life," said the almost 43-year-old.
She's been coming to the Y for 16 years. And in that decade and a half, her life has changed quite a bit. For one, she weighed more than 380 pounds back then.
"I decided to lose the weight to start living better," she said. "I started walking, and each day I'd walk more than the one before. Then I started biking and one day took a Zumba class at the Y."
At the time she was dealing with health issues like diabetes, asthma and early signs of high blood pressure. The Y helped her lose weight; she cut her clothing size in half and building muscle. She was feeling better, physically. But when she needed help in another aspect of her life, it was the Y that was there again for her.
"When I was going through a divorce, I told them I couldn't afford to pay," she said. "They supported me, giving me a free membership for a year. That allowed me to feel safe and accepted."
FINDING A NEW PASSION
It was like a weight – literally – had been lifted off her. It allowed her to continue to focus on her health, and the safety of her kids. It also allowed her to find a new passion.
"I would have never had the opportunity to start bodybuilding without that year."
Rose never thought she would become a bodybuilder. She met a fellow bodybuilder at the Y one day and after a few years of working with a coach, she started competing. This March, she'll be taking part in one of the biggest competitions in her sport – The Arnold Sports Festival in Columbus, OH.
"The most important thing you can do is take care of your body, and I wouldn't be here without the YMCA."
And she isn't just referring to bodybuilding. Rose says the Y has been her saving grace in many aspects. They helped with child care when her sons were young – she says they grew up in the Y with her. And when she started caring for her grandson, guess who was there to help again?
"I only had a car seat. The staff got me a crib filled with clothing, toys, diapers and so much," she said. "The Corning YMCA is much more than a gym; it's a community resource."
Rose now likes to pay it forward, helping others who might be going through a similar situation that she was, whether it is at the Corning Y, or in her job as a nutritionist.
"I remember what my life was like before the Y. I won't forget what I went through, because I'm not willing to repeat that."
"The Y's had my back every step of the way and I can never say thank you enough for that."