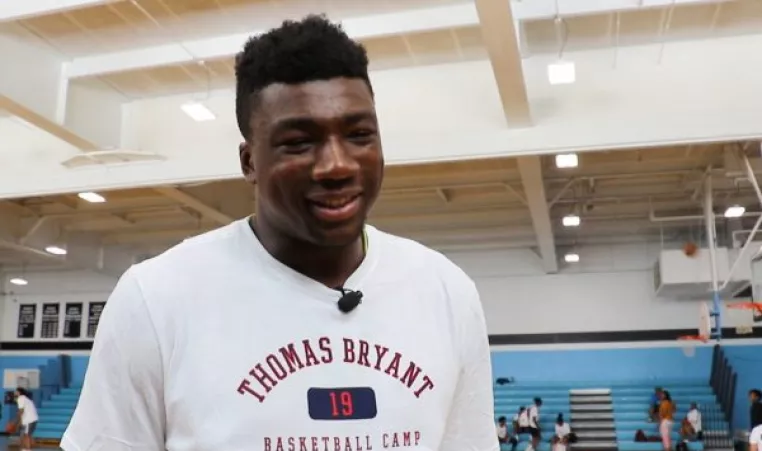 MY Y STORY: THOMAS BRYANT
FROM THE COURTS AT THE Y TO THE NBA
Thomas Bryant was the 42nd overall pick in the 2017 NBA Draft. He's currently the starting center for the Washington Wizards. But before his success in the NBA, Thomas was a kid playing in any and every pickup game he could at the YMCA of Greater Rochester.
"My mom was working. So instead of just going home, sitting down watching TV, I was at the Y playing basketball," he recalls. "Now that I think about it, it was very rare that I wouldn't be at the YMCA. Maybe a Sunday, but sometimes I would still be there too."
Thomas says he grew up at the Y. He credits his time on the courts at many of the branches with helping to get him to the NBA.
"I went to all the different YMCAs around [Rochester] just trying to find different pickup games," Thomas says. "I used to love to travel and see the different Ys and see how they worked. Seeing and playing different guys, that was the most fun part."
Over the summer, Bryant held a basketball camp for boys and girls in Rochester at his former high school, Bishop Kearney. He was there, helping them with jump shots and dribbling drills, but he was also there to talk and interact with them. Coming back home and giving back to the community that did so much for him had always been his dream.
"It's more than just basketball for me," he said. "It's trying to help kids, try to give them some bit of inspiration. I've always wanted to be that local hero, I always wanted to be that role model that kids could look up to. I always thought about that when I was younger."
Thomas called this camp a milestone for him. An even bigger milestone came earlier in the summer when he signed a contract extension with the Wizards.
"The grind just doesn't stop there, I haven't stopped or taken a break since that," he says. "I just want to keep improving each day because I want to keep working for more contracts."
And people are taking notice. His name was in the conversations for the NBA's Most Improved Player Award in the 2018-19. Thomas is looking to carry his momentum from last season and this off season into the new one, which officially for his team tips off on October 23.
Thomas says fans can expect a fun season for the Wizards. He'll be continuing to work hard and grind every day, remembering where it all started.
"I spent countless hours just working on my game where I was in the gym by myself or I was in the gym with other guys, it helped me so much throughout life and throughout my childhood. The YMCA was my outlet and I loved it."