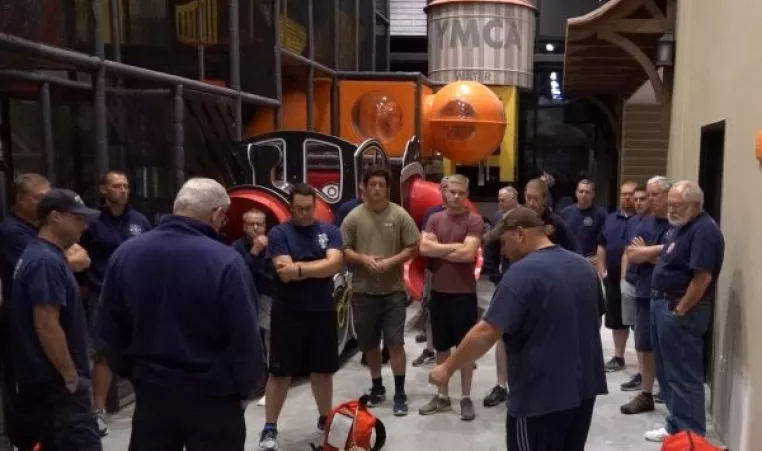 FIREFIGHTERS FAMILIARIZE THEMSELVES WITH NEW SCHOTTLAND FAMILY BRANCH
Every Monday night, you will find the volunteer firefighters of the Pittsford Fire Department training. Their weekly training on September 16 took place at the Schottland Family Branch.
"We try to create different, unique drills that you just don't get a lot of practice at," said Doug Yager, Chief of the Pittsford Fire Department. "And this definitely is one of them."
Chief Yager is referring to the Cristman Depot, the train-themed adventure center in the Schottland Family Y. Inside is a three-story play structure that features tunnels and slides for kids to explore. And for the night, firefighters got to explore it too.
"One of the things we do try to train on are tight quarter rescues, and obviously this qualifies as one of them," Chief Yager said. "I think they had some fun doing it, but at the same time I think it opened their eyes that if something real were to happen, how hard it would be to bring somebody down."
Chief Yager called it a one-in-a-million rescue, but they need to be prepared for the one time they could get the call.
"We could respond to an emergency that we train a lot for, but when you get there the situation can be totally different," said Yager. "Emergencies don't have certain areas they happen in, so for us to utilize a facility like this is really important for us."
It is also important to the staff at the branch. The staff go through extensive training, but in case the one-in-a-million rescue comes along, they know they can count on the firefighters.
"These trainings are not only helpful for the firefighters; they're helpful for us," said Jeff Cogan, Executive Director at the Schottland Family Y. "Having them in here, to train in case of an emergency, it gives our staff peace of mind knowing our first responders are familiar with our building. No one wants to think about these things happening, but we always have to be prepared for them."
The YMCA of Greater Rochester is thankful for all of our first responders and understands the vital role they play in this community. We are appreciative that they took their time to come learn our new building and train at the branch.
The Cristman Depot is for kids ages 5-12. They will be able to safely play in this area under supervision of trained staff as parents and guardians use other parts of the facility.