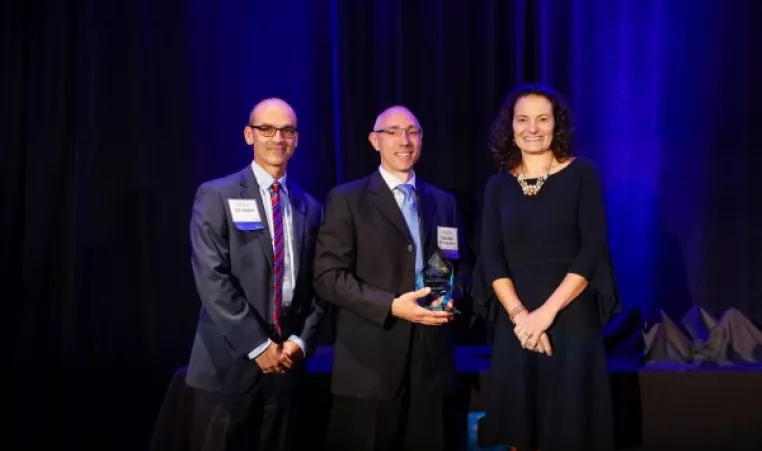 RBJ SELECTS FINANCIAL EXECUTIVE OF THE YEAR
Small Non-Profit Winner: Paul M. LeFrois Jr., Senior Vice President of Finance, Chief Financial Officer, YMCA of Greater Rochester
Source: RBJ.net
Paul LeFrois only joined the YMCA of Greater Rochester as its Chief Financial Officer in 2015, but he quickly has made an incredible impression on those with whom he works.
"Paul LeFrois has given me great confidence in his ability to lead the fiscal operation of the Association and help support the aggressive agenda that we've set through the strategic plan", says George Romell, YMCA President and Chief Executive Officer.
Although LeFrois serves as Senior Vice President of Finance and Chief Financial Officer for the YMCA of Greater Rochester, he previously was a volunteer with the organization for 16 years.  Its mission is important to him.
"I do not see this as a job, but as a lifestyle choice," says LeFrois, 47. "The work we do as finance professionals is very data driven and can become monotonous.  The work we are doing at the YMCA is exciting, challenging, and demanding most every day.  There are good team dynamics, which allow for collaboration on multiple levels."
The YMCA of Greater Rochester is one of the region's leading charitable organizations, committed to strengthening communities through youth development, healthy living, and social responsibility for more than 160 years.  The YMCA is steadfast in its desire to build healthy, confident, connected, and secure children, adults, families, and communities in the greater Rochester area.  For his part, LeFrois is responsible for the organization's Finance, Risk Management, IT, and Human Resources.
Jeffrey Paille, a Certified Public Accountant and Partner at Bonadio & Co. LLP, describes LeFrois as a "financial professional of the highest order".  Paille met LeFrois through his role as Auditor of the YMCA.  "Paul is an outstanding financial professional…who can quickly and effectively analyze financial information and explain it to both experienced professionals and non-financial people in an understandable manner," Paille says.
LeFrois, of Ogden, is eager to embrace new ideas, and quickly and effectively understands the impact of potential operational changes.  Those skills came in handy as he worked on the funding plan for the new, 140,000-square-foot YMCA scheduled to open in Pittsford in Fall of 2019.  The financing involved grants, a capital campaign, and a bond issuance.  LeFrois led the entire process and completed it by the end of 2017.  The timing of the funding was critical due to regulatory pressure and changes.  Those factors would have impacted the completion of the facility if the organization had not completed its funding by the deadline.  LeFrois' good work also provided the possibility of higher interest rates.
Charles Vita, Senior Vice President of the Commercial Services Group at Canandaigua National Bank & Trust, is a YMCA board member who works with LeFrois on the Finance Committee.  He says the project has been "executed flawlessly due to Paul's leadership, expertise, problem-solving skills, and work ethic."
It's all in a day's work for LeFrois.  "The knowledge that I am a piece to a much larger puzzle, and that every piece is important, changes what some might view as drudgery into energy for me," he says.
–Travis Anderson