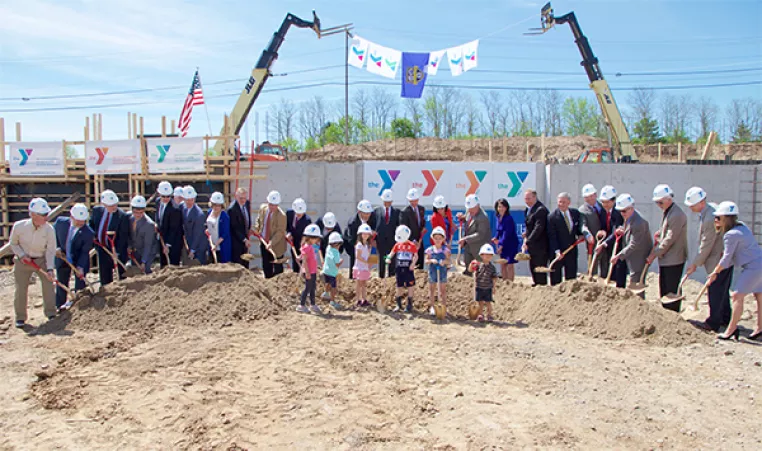 YMCA BREAKS GROUND ON NEW BRANCH IN PITTSFORD
This new "Y of the future" to be one of the largest in the country when it opens in October 2019; will serve the entire region
The YMCA of Greater Rochester officially broke ground for its newest branch "to be one of the largest in the country" at 11 a.m. Monday, May 21. The 140,000-square-foot facility is being constructed on 20 acres at the corner of Clover Street and Jefferson Road in Pittsford.
"This will be a Y of the future and one that will be modeled nationally for its integration of health and wellness," said George M. Romell, President and CEO of the YMCA of Greater Rochester.
The new YMCA is on track to open in October 2019, at which time the branch will serve the county's southeastern region, including Pittsford, Mendon, Brighton and Henrietta, with integrated health and wellness offerings.
"We have a health epidemic in our country and our community," Romell said. "It is the mission of the YMCA to foster and encourage wellness and healthy living, and this new campus will allow us to do that through prevention and meeting the growing needs head on."
As part of a heightened partnership between the YMCA and UR Medicine, the new Y will be home to a 15,000-square-foot wellness hub, serving Y membership and the community at large with vital medical services. The two organizations successfully piloted this model in 2014 at the Y's Eastside branch.
"I've seen firsthand the power of the YMCA and I'm certain this new branch will best serve our region," said Erik M. Grimm, Chairman of the Board, YMCA of Greater Rochester. "The YMCA is at the heart of our community, and the success of our suburban branches supports all we do at our urban branches."
Funding for the project is coming from a variety of sources, including the sale of the current Southeast branch, individual philanthropic donations and support from the New York State Finger Lakes Regional Economic Development Council. An additional $5 million is needed to complete the project and fundraising is ongoing.
"Today we would like to offer our sincere congratulations to the YMCA of Greater Rochester as construction gets underway on its beautiful, new state-of-the-art facility in the Town of Pittsford," said Finger Lakes Regional Economic Development Council Co-Chairs, Monroe Community College President Anne Kress and Greater Rochester Chamber of Commerce President and CEO Bob Duffy. "This new branch will further build on the YMCA's overall efforts to support the health and spirit of our community, fueling our efforts to move the Finger Lakes forward."