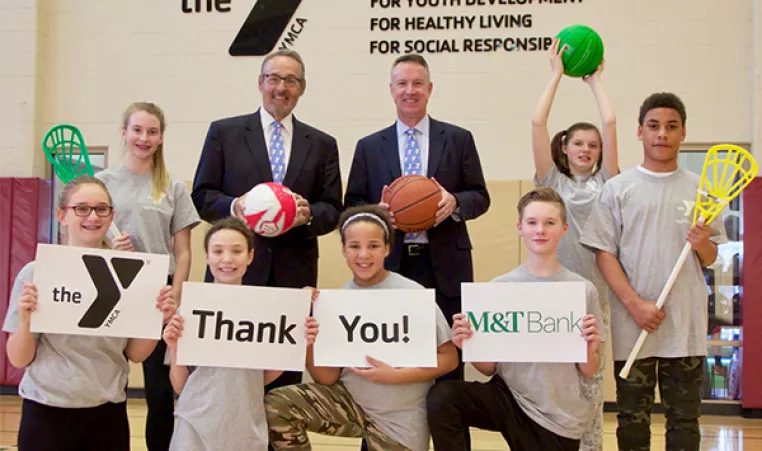 YMCA GETS $500,000 BOOST FROM M&T
New Southeastern Y will have three gyms, art center, medical and daycare facilities
Source : rbj.net
M&T Bank has pledged $500,000 to the YMCA of Greater Rochester to help build one of the nation's biggest YMCA facilities. The gift is the largest corporate donation to the new, southeastern region YMCA and establishes M&T as the project's lead corporate sponsor.
"They've always been a great partner and philanthropic support of ours," said YMCA President and CEO George Romell of the relationship between the two organizations. "We had long conversations with them about their gift, their philanthropy, their overall support of the Y mission, which is just phenomenal in terms of having a corporate partner."
Romell said the M&T team wanted to give a gift that meant something to the community. As such, M&T has earned the naming rights for the largest of three multi-purpose gyms planned for the new Pittsford facility.
"We're thrilled about it. When George approached M&T about supporting the capital project for the Pittsford Y, we jumped right in because we think it's going to be a game changer in our community," said Dan Burns, M&T regional president. "The way M&T looks at it is, if our community succeeds, so will the bank."
The $40 million project broke ground in December, three months earlier than anticipated, and is expected to open in fall 2019. The YMCA has raised roughly two-thirds of its original campaign goal of $15 million, but Romell said he'd now like to raise $20 million and finance the remainder.
More than $10 million has been raised via more than 100 individual, corporate and foundation donors, as well as support from the State of New York.
The new YMCA will sit on 20 acres at Clover Street and Jefferson Road in the town of Pittsford. The three-story, 140,000-square-foot facility will replace a much smaller building on Jefferson Road in Pittsford.
Romell said the new facility will have at least six or seven standout accoutrements, including a full-service childcare center capable of caring for 80 children per day.
"We know that's a home run because we have one at our downtown branch and we have one in our west side branch, and they're both very well subscribed," he said. "Because what parent wouldn't want their kid to have the full benefit of the whole YMCA rather than just a childcare center?"
The new facility also will feature a 15,000-square-foot medical center including rehabilitation space, a space for orthopedics and other services. The YMCA has not yet announced who will occupy that space.
Included in the new building will be a full-sized community wing that will feature a teaching kitchen, a senior center by day and multipurpose space by night, an art center and an exercise studio.
"All of these things are not new to the Y, but are definitely bigger and better and more focused on serving multiple populations at the same time," Romell explained.
The new Pittsford YMCA will feature a six-lane pool, but a signature feature of the branch will be its warm-water recreational pool. Kids will be treated to an indoor aqua-splash ground.
Romell noted that the YMCA has built two branches and renovated three in the last 15 years, and used that knowledge when designing the new facility. He said one of the struggles is what to offer for pre-teens and teenagers.
"We build these rooms with pool tables and foosball tables and throw in a computer or two and say, oh, they're going to like that," Romell explained. "And they never use it."
So the YMCA took its member feedback and everything it had learned from benchmarking and created a center specifically targeted to that age group. The Exercise Your Mind, or EYM Center, focuses on science, technology, engineering and math activities. YMCA is working with Rochester Institute of Technology to design the center.
"It can be music, it can be video, it can be green screen production, it can be 3D printing, it can be as simple as learning how to sew or making a cardboard car," Romell said. "It's going to be extremely flexible industrial space designed for the kid that maybe doesn't want to bounce a basketball."
The YMCA has doubled the size of its track and added a 90-bike, amphitheater-style spin stadium. The branch will feature three gymnasiums, including an inside turf stadium and the double-sized M&T Bank gym.
The gym donation means a lot to Burns personally, who grew up at the Batavia YMCA. When he moved from Buffalo to Rochester in 1990 to become M&T's regional president, Burns joined the YMCA board, so he has a long history with the organization. He said Romell is always looking forward.
"We really feel like the Y is a safe place. It's a place where you can learn financial literacy, learn cooking and get help at the same time. It checks a lot of the boxes," Burns said. "Why does M&T want to invest in the Y? Because that's where the people are."
The new branch is part of the YMCA's 10-year Strengthening Communities Campaign, which is focused on deepening the Y's commitment to the region and improving the programs and services that help ensure a healthier and vibrant community. The campaign stands at 85 percent of the total $75 million fundraising goal.
M&T's latest gift to the new YMCA facility brings the bank's total donations to the organization to $1.186 million.
"The success of that Y is critical to the success of the Y as a whole and the work they do and their mission of providing quality services in the city," Burns said. "It's something that's going to be a valuable asset in our community."
vspicer@bridgetowermedia.com / 585-653-4021