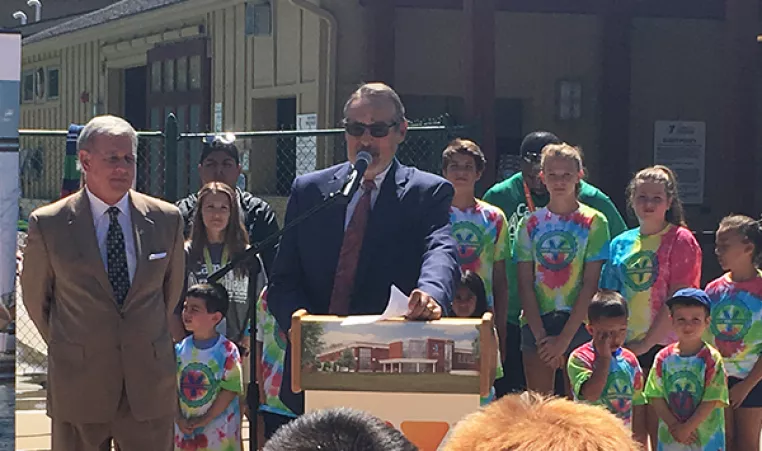 YMCA OF GREATER ROCHESTER ANNOUNCES $1 MILLION GRANT SUPPORTING COMMUNITY HEALTH AND WELLNESS
New location will serve tens of thousands of residents in southeastern Monroe County
ROCHESTER, N.Y. – The YMCA of Greater Rochester is proud to announce Senator Rich Funke has directed $1 million in state funding to support the Schottland Family YMCA that is being constructed with the entire community in mind.
"Today, the Y offers many health and educational benefits that impact individuals at every age, from young children to grandparents," said Senator Rich Funke. "It is a representation of the extended family structure that works together to care for one another, which we often see as members at local YMCAs. As a New York State Senator, I will always advocate for health and wellness programs and facilities that focus on improving the quality of life among constituents in the 55th Senate District."
The 140,000-square-foot state-of-the-art facility, which rests on 20 acres at the corner of Clover Street and Jefferson Road in Pittsford, is being funded through a variety of sources, including a significant capital campaign and support from New York State.
"This tremendous support is a tribute to Senator Funke's deep commitment to his constituents and the entire community," said George M. Romell, President and CEO of the YMCA of Greater Rochester. "The Y serves tens of thousands of children, families, and seniors in the region, and this new branch will greatly enhance how we serve our community. By directing this extraordinary funding from the State of New York, Senator Funke is directly investing in the health, well-being, and vibrancy of those living in Monroe County and beyond. The Y is grateful for Senator Funke and his colleagues' belief in this project and his years of dedication to the YMCA and the communities we serve."
The new facility, slated to open in October 2019, will be among the largest in the United States, serving the county's southeastern region, including Pittsford, Mendon, Brighton and Henrietta. The facility will fully integrate health and wellness as well as onsite medical facilities that address urgent human-service needs for children, youth, adults, and seniors with diverse backgrounds and abilities due to the Y's robust partnership with the UR Medicine.
"That is why investing in the future YMCA in Pittsford was a smart decision," said Senator Funke. "It will serve as a community resource to families throughout the area."
Fundraising is ongoing, with an additional $3.5 million needed to complete the project.