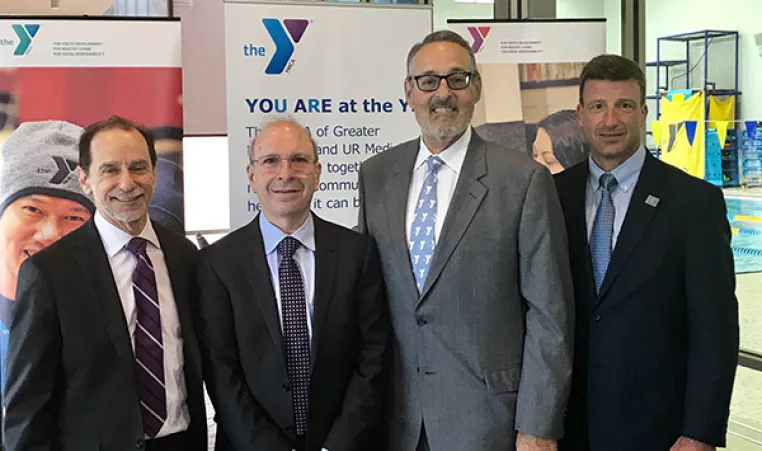 YMCA OF GREATER ROCHESTER, UR MEDICINE ANNOUNCE EXCLUSIVE COLLABORATION
11-year agreement increases access to UR Medicine programs, services at 17 YMCA locations
Area residents will have greater access to UR Medicine wellness programs and clinical services at 17 YMCA of Greater Rochester locations, under terms of a collaboration agreement announced today.
The agreement expands upon, and formalizes, the pilot collaboration launched in 2014 between the YMCA and UR Medicine. The original partnership, initiated to improve community health, is the largest, most comprehensive collaboration of its kind in the Northeast. The exclusive agreement, which begins now and extends through 2029, will make a range of health services available at YMCA locations across the region, meeting the increased needs of the communities served by both organizations. Specific programming will include:
• Clinical programs to help patients manage chronic diseases, such as diabetes and arthritis
• Sports performance and injury-prevention clinics
• Dental health screenings
• Pediatric telemedicine care
• Expanded prevention and education services such as influenza clinics, wellness screenings and health talks
As part of the agreement, several UR Medicine physician practices will be located within YMCA branches. UR Medicine Heart and Vascular's Rochester Cardiopulmonary Group (RCPG), for example, will open a practice later this year at the Eastside YMCA branch in Penfield to treat cardiology patients.
"The YMCA's vision has been to create facilities that are far more than fitness or child-care centers, offering programs that improve the health and well-being of our entire community," said George Romell, President and CEO of the YMCA of Greater Rochester. "Our strong relationship with UR Medicine has helped us to make significant progress toward that goal, and this collaboration will take that relationship to a new level."
Under the previous agreement, UR Medicine provided a variety of wellness programs at local YMCA branches such as flu vaccinations, biometric screenings and nutrition classes. A "wellness hub" at the Eastside branch in Penfield includes an onsite UR Medicine Primary Care practice, to be joined by the upcoming cardiology practice. The new YMCA under construction in Pittsford, scheduled to open in October 2019, will house a second UR Medicine wellness hub in 15,000 square feet of the new facility.
"The goal of UR Medicine is to improve the health of communities we serve across upstate New York, and we achieve it by providing people easy access to preventive services and high-quality clinical care," said Mark B. Taubman, M.D., CEO of UR Medicine. "The YMCA of Greater Rochester is a great community partner already, and with this agreement we will expand the reach of UR Medicine services to more convenient locations."
The expanded services will be provided by multiple units within the University of Rochester Medical Center, including the School of Nursing's Employee Wellness Program; the Center for Community Health and Prevention; the Orthopaedics and Sports Medicine department; Golisano Children's Hospital; and Eastman Dental Center.
The YMCA of Greater Rochester encompasses 17 facilities, including family branches, child-care services and summer camps in the City of Rochester, as well as throughout the entire County of Monroe and Steuben County. The success of the YMCA's suburban programs is what supports the Y's urban mission, branches and programs. UR Medicine's generous commitment enables the YMCA to care for the nearly 100,000 members and youth they serve, in our towns and our city. As part of this new agreement, active UR employees are entitled to unique membership and program packages.
YMCAs across the nation are partnering with health care providers to share resources and leverage unique assets resulting in services with an emphasis on a continuum of care that is convenient and high-quality. More than half of the YMCA facilities across the United States – in excess of 1,200 – enjoy a partnership with a health care entity in their communities.