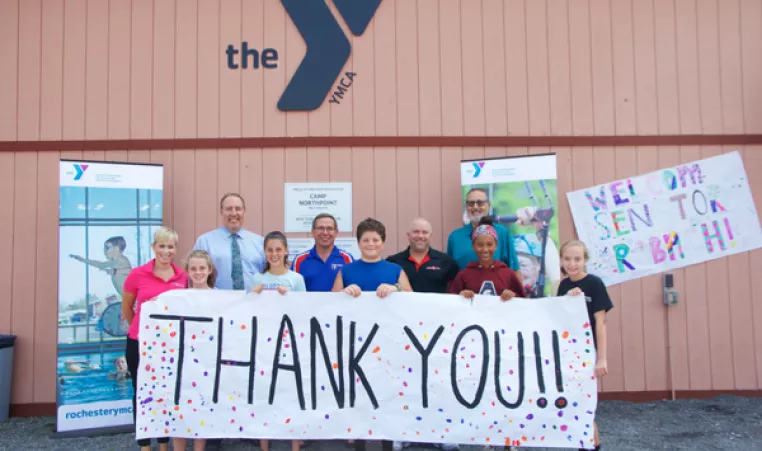 ACTIVITIES NOW A REALITY THREE SEASONS A YEAR, FROM APRIL TO OCTOBER, AT THE 45-ACRE CAMP THAT SERVES THOUSANDS OF FAMILIES; ENHANCEMENTS MADE POSSIBLE BY STATE FUNDING SECURED BY SENATOR JOSEPH E. ROBACH
ROCHESTER, N.Y. — The YMCA of Greater Rochester showcased new upgrades at YMCA Camp Northpoint, the 45-acre camp on North Greece Road which served 3,000 children this summer from the west side towns of Greece, Gates, Chili, Spencerport, Hilton, and Hamlin. And now the families of these campers can utilize the facility for three seasons of the year, from April through October, thanks to a grant secured by Senator Joseph E. Robach.
The funding provided upgrades at Camp Northpoint, including retrofitting the program barn with insulation, a multipurpose turf floor, industrial heaters, and commercial-grade ceiling fans, plus new sports activity equipment. Camp Northpoint is now able to host indoor sports as well as better serve campers during the summer.
"Camp Northpoint is a great resource in North Greece for families across our community," said Senator Robach, who represents the 56th district. "I was happy to secure a state grant so that the YMCA of Greater Rochester was able to renovate existing infrastructure, allowing campers of all ages to be more active through sports, games, and fun competition in a safe, state-of-the-art location."
Senator Robach has been a longtime friend of the YMCA of Greater Rochester, actively supporting the Northwest branch, the Association's childcare programs, and renovations at the Maplewood branch. He was instrumental in the establishment and building of Camp Northpoint.
In 2010 Senator Robach was the recipient of the YMCA Red Triangle Award, which is the highest honor the Association bestows upon a volunteer.
Camp Northpoint opened in 2005 with the program barn as well as a swim center, climbing tower, pavilions, and sports fields. A splash park and a third pavilion were added in 2007.  Camper numbers have grown from 300 in the first year to 3,000 in summer 2018. In addition to day camp, Northpoint is home to youth and adult sports and fitness, as well as speed and agility training — activities that are now shielded from the weather on a better playing surface.
"The unique experiences and healthy environment at Camp Northpoint help instill positive values and build self-esteem in each child we serve," said George M. Romell, President and CEO of the YMCA of Greater Rochester. "Enduring values like caring, honesty, respect, and responsibility are essential to personal growth and are an integral part of camp life at the Camp Northpoint."