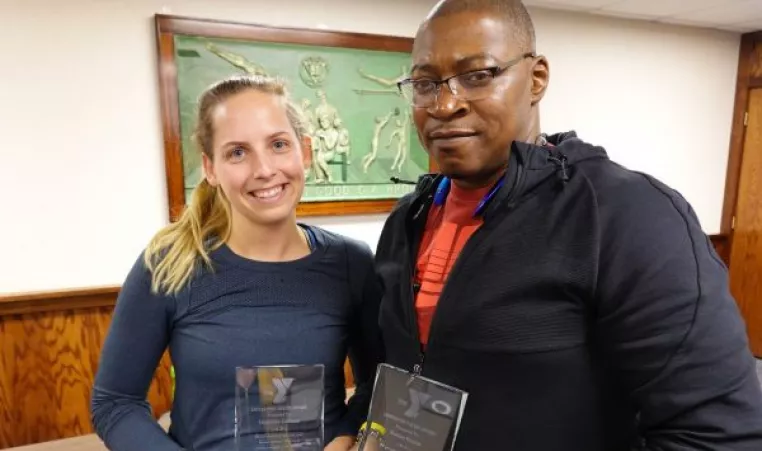 YMCA STAFF RECOGNIZED FOR LIFE-SAVING ACTIONS
STAFF ADMINISTERED NARCAN, REVIVED PERSON THAT OVERDOSED
It was an average summer day at the Carlson MetroCenter YMCA in June. Stephanie Coffman, aquatics staff associate, was leaving when things turned to the worst.
"I was walking off the pool deck and I hear over the walkie that there was something wrong. I sprint out and find Rodney at the front," Coffman said.
Rodney Frazier, Facility Monitor and Wellness Coach at the branch, was outside helping an individual who had overdosed.
"With my background [working outreach with HIV and AIDS], being familiar with people who have overdosed or been in that situation, I just wanted to get help for them as soon as I could," he said.
In 2018, Emergent BioSolutions made NARCAN® nasal spray available to YMCAs across the country at no cost. The YMCA of Greater Rochester wanted to make sure staff was properly trained on how to use it and partnered with the Monroe County Department of Health to arm staff with the knowledge to respond to any potential emergency.
"It isn't just our members that we want to make sure are safe; we have a commitment to the communities in which we serve," said Jason Letendre, Director of Risk Management. "Many opioid emergencies happen in public areas. As a community-based organization, we will do our part to provide support to all."
According to Monroe County, there have been more than 600 overdoses, with nearly 100 of them being fatal, so far this year. Thankfully the individual that Frazier and Coffman helped was able to be resuscitated. This was the first time that either had used their training to save a life.
"I've trained people since, and I use this story as a reason why people should know, because you really don't know where or when it's going to happen," Coffman said.
"It's something that you never hope to be in, but those trainings do kick in," Frazier said. "It was by the grace of God that Stephanie and I were there."