Visit our Parent Information Page
Being informed as parent is crucial. This is why we have everything you need in one convenient place.
For information on assistance, please contact us at 315-357-6401
Choosing the right camp is an exciting process. At Camp Gorham we focus on ensuring that every camper feels at home the moment they register. Once your camper arrives at camp, everything our staff team does revolves around making sure they have the most unforgettable experience. Everybody plays a part within the experience for the whole camp.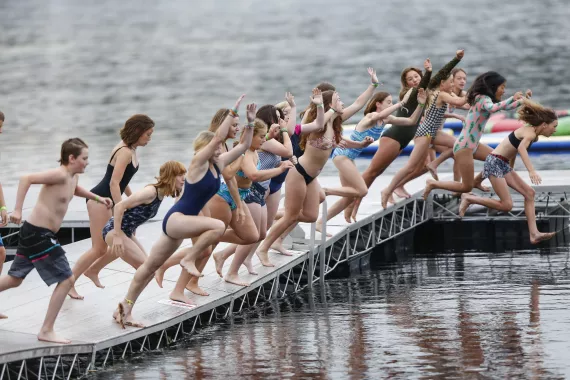 Cabin Life at Camp Gorham
Family: 

Our cabins are home base for campers, both in terms of space but more importantly in terms of people. After each day, campers always come back together in their cabin and participate in Evening Embers, a chance to share their thoughts, feelings and experiences. Cabin life is designed to build new friendships in a caring supportive environment. Campers are active participants in the Camp Community taking responsibility for the cleanliness of their cabins; keeping track of their personal belongings; putting away equipment after activities; and clearing tables after meals in the dining hall. Camp will honor one reciprocal roommate request. Each cabin is staffed with two Cabin Counselors who live in the cabin with their campers. Parents can meet their child's counselors at check-in and again during pick up at the end of your camper's session.

 

Neighborhood: 

Cabins also make up different villages at Camp Gorham. Our Villages give campers something to be part of and proud of within the overall Gorham community. Campers are assigned a village based on age and gender. Each has a distinct identity. Throughout the summer, campers have many shared experiences within their village but also aim to be the loudest and proudest within camp! Campers are encouraged to bring clothing in their village color to exhibit their pride. Staff create a dynamic environment focused on five key elements: Safety, Friendship, Adirondack Experiences, Character Development and Fun! Adirondack Village: Girls ages 7-12 (Village Color: Green), Big Moose: Boys ages 7-12 (Village Color: Red), Frontier: Girls ages 13-16 (Village Color: Yellow), Lumberjack: Boys ages 13-16 (Village Color: Blue)

 

Meal Time: 

All meals at Camp are served family style in our dining hall; a cereal bar is available in the morning and a salad bar is available at lunch and dinner. Campers who require special diets for medical reasons can be accommodated with advance notice. Fruit is always available for campers and mealtimes and for snacks throughout the day. Cabins take turns being table setters for each meal to help set up the dining hall. Prior to the meal camper's gather together in the game zone in front of the dining hall enjoying gaga ball; basketball; carpet ball and the jumping pillow. Just prior to the meal, campers line up in cabin groups and are called up to the dining hall one group at a time. This line up time includes our lost and found game as well as some cheers; songs; and quick role-playing games! The fun continues in the dining hall with spontaneous songs and cheers throughout the meal.
Overnight Camp Session Dates and Rates
| | |
| --- | --- |
| Session | Date |
| Week 1 | July 2-8 |
| Teen Adirondack Guides (TAG) Session 1 | July 2-15 |
| Counselor in Training (CIT)  | July 2-29 |
| Week 2 | July 9-15 |
| Week 3 | July 16-22 |
| Teen Adirondack Guides (TAG) Session 2 | July 16-29 |
| Week 4 | July 23-29 |
| Week 5 | July 30-August 5 |
Overnight Camp: $1,150
Non-Member Fee: $105
Holdover Fee: No Charge
TAG: $1,965
Holdover Fee: $175
CIT: $1,925
YMCA Camp Gorham Traditions
Closing Banquet and Campfire: On the last day of each session, campers gather in the dining hall for a spectacular meal prepared by our professional chef. Staff all dress for the occasion and campers are encouraged to bring a nice outfit to wear to dinner that night. The banquet sets the stage for our closing campfire with wood chip ceremony. Campers receive a bracelet at closing campfire symbolizing their specific year at camp. The Adirondacks have long been a destination for friends and families where historically people would "dress" for dinner and gather in large dining halls for family style meals. Gorham celebrates the past of the Adirondacks with our closing banquet tradition as well as celebrating and giving thanks for the new friendships and experiences enjoyed during your camper's session.
Golden Horseshoe: Our wonderful team of horses are expertly taken care of by our Equestrian staff but they always welcome extra help. Each morning campers can help to bring the horses in from the pasture and get them fed and ready for the day. The dedicated volunteer campers who join the equestrian staff every day are awarded the Golden Horseshoe in recognition of their efforts.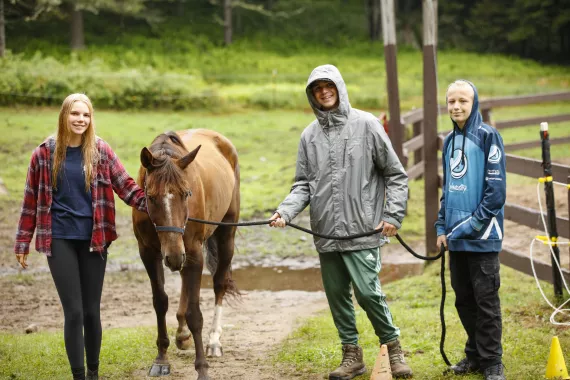 Polar Bear: Each morning, with the mist in the air and Darts Lake smooth as glass, the bravest campers and cabins head down to the waterfront to participate in what Gorham Campers have been doing since 1963, the polar bear plunge! Campers who plunge into the lake every morning are awarded the polar bear award at closing campfire but even if you only do it once, one thing is for sure, no Gorham experience is complete without the polar bear plunge!
Camp Corral, a 501 (c) (3) tax-exempt, non-profit corporation, is a free, one-of-a-kind summer camp for children of wounded, disabled or fallen military service members. Camp Corral is proudly sponsored by its founding sponsor, Golden Corral Corporation, and other generous donors. YMCA Camp Gorham is one of 17 sites in the nation selected to host Camp Corral. Registration now open. Enrollment space is limited so apply early! Providing positive, recreational experiences in the outdoors helps foster resilience, and Camp Corral has proven to be a 'week of a lifetime.' The week also encourages the campers to create friendships and bond with other kids who share similar family situations. Your camper will spend the week outdoors enjoying the many traditional overnight camp activities Camp Gorham has to offer: swimming, kayaking, canoeing, paddle boards, mountain biking, fishing, archery, high ropes, zip line, hiking, wilderness, and more!
Who can attend? Any child, ages 8-15 of a military family may attend. However, registration priority is given to children of wounded, injured, ill, or fallen military service members.
How does my camper apply? The camper's parent or legal guardian must complete their camper's Camp Corral application online on the Camp Corral website.
What happens after I apply? YMCA Camp Gorham will review applications to ensure your camper meets the established guidelines. Once accepted you will be sent instructions on parent/medical forms, what to bring to camp, and arrival and departure times. 
Teen Leadership Programs: We're proud to offer programs for our campers age 14-16.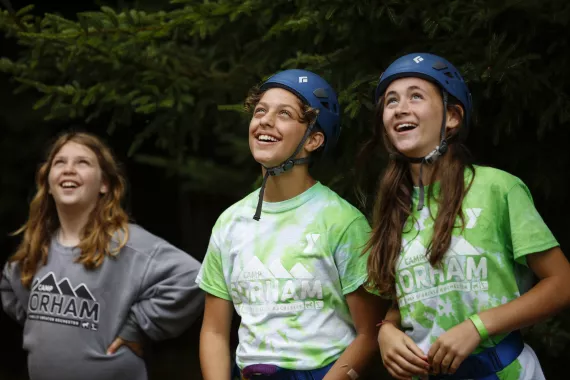 Teen Adirondack Guides (TAG): Our Teen Adirondack Guide program aims at developing campers into leaders both within camp and in their community while providing them with tangible camping skills. The goal of the program is to provide a powerful and meaningful experience for participants. TAG campers are housed in lumberjack and frontier villages. Program highlights include: Two-night camping trip where participants plan and navigate through the experience, Raft building experience, Extensive team building and leadership training,  and have a prominent role in all-camp activities. The TAG Village Color is Tie-Dye and campers will be given a white shirt to tie-dye while at camp.
Trailcutters: Trailcutters is a wilderness and service-based program; mornings are spent hiking and performing trail and lean-to maintenance about camp. This program allows campers to become part of camp history. In 1961, it was the first Trailcutter and Campmaker campers who were instrumental in creating the Camp Gorham we know and love today.  Trailcutters efforts on the trails will create opportunities for leadership, problem solving and team building while enjoying time on our 1500 acres of wilderness. Teens will spend afternoons at main camp enjoying waterfront time and cabin group activities. Trailcutters will also experience wilderness camping with leave-no-trace skills. Teens will earn a certificate for 40 hours of community service as part of their participation in this program.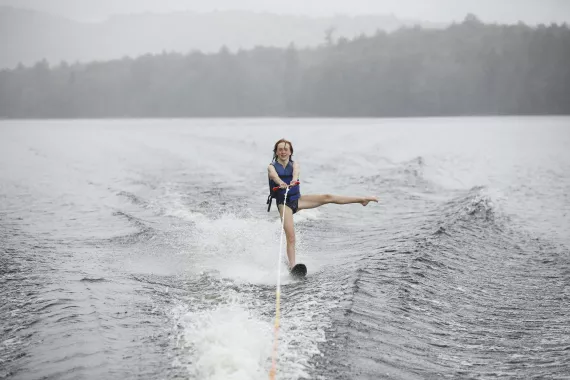 Waterski Programs, age 10 and up: Whether you are looking to try waterskiing for the first time or to enhance your skills further, there is no better location for your child to waterski than on our beautiful 400-acre private lake. Our experienced instructors will tailor their approach to the level of your camper ensuring they get a memorable and meaningful waterski experience. Campers taking waterski lessons must be able to pass our swim test.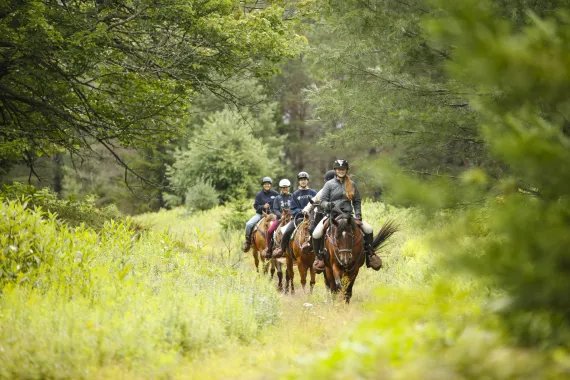 Horseback Riding: With 1,500 acres of property, Camp Gorham offers the chance to experience any number of horse trails. Camp Gorham is accredited by the Certified Horsemanship Association. The CHA provides the accepted Standards for Equestrian Programs. CHA requires accredited members meet standards for safety, education and animal welfare through a detailed process which examines the site, program content, staff qualifications and equine management. Campers who register to take horseback riding as one of their three electives will begin with riding lessons, building to a trail ride. Campers are grouped by ability level with lessons being tailored to maximize the experience for each camper. Campers not in this elective may still be able to experience the horses either by assisting with barn care or may take part in a scheduled cabin ring ride in our arena. Helmets are provided; campers registering for this program must bring riding boots/shoes with pronounced heel and long pants that come to the ankle for riding. Lessons are with equestrian staff. After assessments, riders are grouped into beginner, intermediate and advanced classes.
Adirondack Adventures: Situated on 1500 acres, Camp Gorham provides the perfect setting for all our campers to experience a night of outdoor wilderness camping. Campers stay in cabin groups with their Villages at designated overnight sites on Camp Gorham property. Adirondack Adventure is held on the middle Saturday of each two-week Camp Session. Campers will enjoy various cookout meals during their Adirondack Adventure as well as fun outdoor games and activities.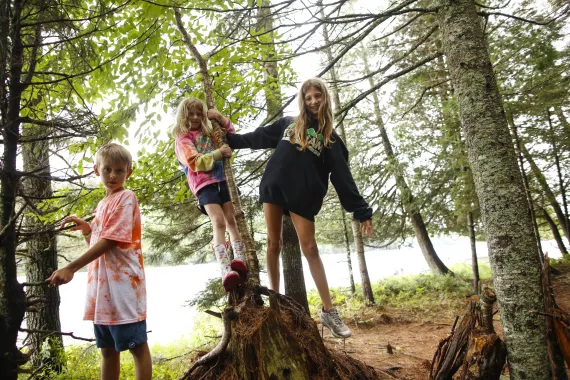 Creative Activities: YMCA Camp Gorham offers many activities for campers to express themselves creatively. Arts and Crafts: Adirondack: This specialty track will concentrate on Adirondack crafts such as bark frames and watercolor art of the area. Make your own lasting memory of your adventure in the Adirondacks! Arts and Crafts: Traditional: Looking to tie-dye, make a candle or a friendship bracelet? Then this specialty track is for you! Join us to make Gorham classic arts and crafts! Don't forget to bring items from home to tie-dye or purchase at our camp store! Camp Sampler: Is this your first time at camp? Is it hard to choose a specialty track with so many fun options? Join Camp Sampler to try a different camp activity each day. Campers in the sampler class will have a jam-packed week of swimming, canoeing, hiking, cooking over a campfire and create a classic camp craft! Solve it!: Are you a problem solver and a team player? Solve it is for you! Bring out your investigative skills to solve mystery puzzles and find the Camp Gorham treasure! Even tryout Camp Gorham's very own puzzle room. Gorham's Got Talent: Campers will spend the week practicing their talent and stage presence to perform for camp at the end of the week.  Juggling, singing, dancing, magic, or doing a combination of all.  We can't wait for you to show off your talents! Outdoor Cooking: Learn the finer skills of cooking over an open fire and along the way enjoy some delicious foods! You also get to participate in a cooking challenge at the end of week putting all your skills to use! Outdoor Baking: In outdoor baking, campers will learn different campfire recipes for some deliciously delectable baked goods. At the end of the week, campers will put their skills to the test in a bake off!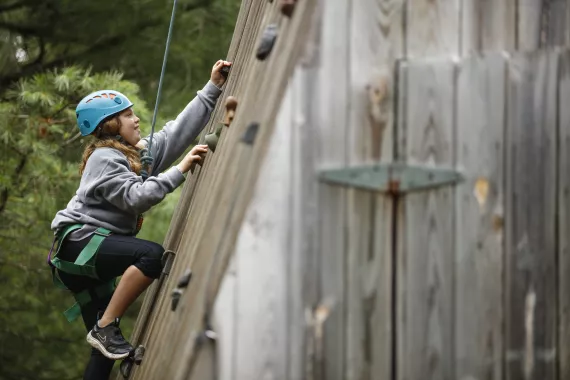 Land Activities: While we love our lake, we can't spend all session long in the water. This is why we have a bunch of activities to keep our campers moving on land! Athletics - Sports and Games: Enjoy fun camp activities and the classics in this specialty track like Jumping Pillow Games, Kickball, Capture the Flag, Ultimate Frisbee and many more! Basketball: Enjoy Camp Gorham's new adjustable hoops and improve your skills. Throughout the week, you will practice skills and scrimmage other campers. At the end of the week, our campers will participate in our very own All-Stars skills challenge that includes shooting, dribbling, passing and more. Climbing Tower: Our 40-foot tower and zip line are great fun for everyone! Learn climbing then participate in climbing games, timed races, and blindfolded climbs. This track includes a day on our "Flying Squirrel" high ropes element! Campers also enjoy our bouldering wall and work on their climbing skills when you are not on the Tower! Mountain Biking: This great activity allows campers to see much of our 1500-acre property on a mountain bike! After safety instruction, campers will learn skills and ride to scenic locations on our property! Soccer: Enjoy Camp Gorham's soccer goals and develop your skills throughout the week. You will develop the traditional skills, learn new moves, and have fun playing games! Target Sports: Join us for a week of target sports! This specialty track will try their hand at sling shots, archery, and atlatls. Complete with target practice, a balloon shooting competition and flux-flux arrows! Wilderness Survival: Campers will experience a week of fun and adventure on our property in the Adirondack Wilderness. They will explore camps 1500 acres by GPS, learn and plan games in and around the forest. Camouflage, tracking, shelter building and learning the rules of survival are just a few of the fun activities in this specialty track.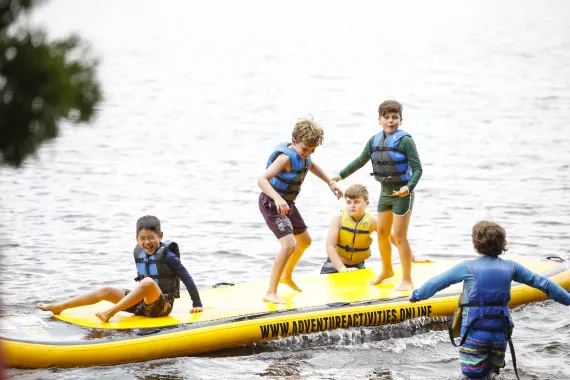 Waterfront Activities: We put our private lake to good use with a variety of activities. Canoeing and Kayaking: Get out on Darts Lake in our canoes! Learn proper technique and then play tons of games such as Battleship, Ladders, and obstacle courses. Fishing: Fishing on an Adirondack Lake! Learn knots and techniques to catch fish while fishing from shore, row boats and a pontoon boat using live bait and lures. SUP - Stand Up Paddleboards: Get a great view of Darts Lake as you paddle board! This class will teach technique and provide fun games for all who enjoy! Swimming Olympics: In this fun new swimming class campers will play a different game each day, some of which are on our fun and exciting water toys! At the end of the week the class will come together and participate in the Gorham Swimming Olympics with fun goofy events all over the waterfront. Sailing: Our 400-acre lake is the perfect location to learn to sail or improve your skills. Our instructors will teach best practices and then the fun will begin! Advanced Sailing: For two-week campers only; the first week at camp attend our traditional sailing specialty track and during your second week at camp sailing will become a two-hour specialty track replacing either a land or creative arts activity; you will learn additional skills and can participate in the Gorham Cup a time-honored tradition as a sailing regatta.
Traditional Camp Schedule
| | |
| --- | --- |
| Time | Activity |
| 7 am | Reveille: Early Morning Swim and Feed the Horses |
| 7:20 am | Cabin Cleaning |
| 7:40 am | Flag Raising |
| 8 am | Breakfast |
| 8:30 am | Announcements at Coliseum |
| 9 am | Camper Elective Period 1 |
| 10:15 am | Camper Elective Period 2 |
| 11:30 am | Camper Elective Period 3 |
| 12:30 pm | Games at Dining Hall |
| 1 pm | Lunch |
| 1:30 pm | Siesta |
| 2:30 pm | Waterfront Activities |
| 4 pm | Cabin Activities |
| 5 pm | Flag Lowering |
| 5:30 pm | Dinner |
| 6 pm | Announcements at Coliseum |
| 7 pm | Evening Activity |
| 8:30 pm | Evening Embers |
Leadership Staff and Board of Managers
Board of Managers:
| | |
| --- | --- |
| Name | City |
| Duane Basch | Rochester, NY |
| Dana Consler | Rochester, NY |
| Larry Davis, III | Rochester, NY |
| Andrew Ashworth | Rochester, NY |
| Nathan Basch | Rochester, NY |
| Tiffany Meyer | Rochester, NY |
| Jody Collins Skinner | Winchester, MA |
| William Sauers | Rochester, NY |
Honorary Camp Gorham Board:
| | |
| --- | --- |
| Name | City |
| Ralph Merzbach | Rochester, NY |
| Bob Metcalf | Hartford, CT |
| Ron Rauscher | Canandaigua, NY |