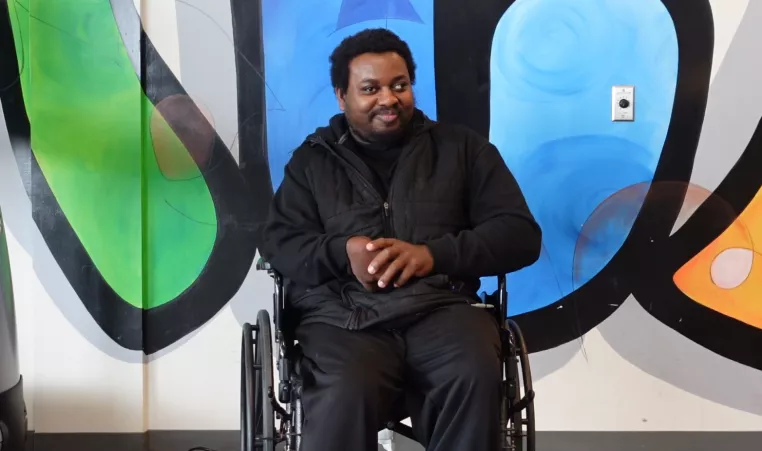 If you were ever having a tough day, talking to Brandon Glass-Neismith might be the boost of energy you needed. Despite battling with Cerebral Palsy throughout his life, Brandon brings a winning attitude to everything he does each day.
Brandon moved to Rochester from Atlanta when he was 9 years old alongside his six brothers and three sisters to live with their aunt. Cerebral Palsy has always affected Brandon's physical condition by relegating him to a wheelchair and subjecting him to many surgical procedures. But that could not waver the positivity in his spirit.
From working full-time to learning how to drive, Brandon does not let his limitations slow him down.
"You can never go through life being negative," said Brandon, who has also worked at Lifetime Assistance Inc. for over a decade. "So I always try to think positive, and I try to help people the same way."
Brandon has really been able to build himself up by working out with us here at the Y. He's been training at the Westside Family YMCA and has been a member since 2019. Once he gets his workouts going on our sci-fit cardio machines, he's off to the races from there.
In his personal training journey, Brandon's first big hurdle was overcoming the challenges presented in the pool. But since he's conquered that, he's become a beloved figure at the Westside Y pool — some people there even call him the mayor.
Sarah Lane, Health and Wellness Director at the Westside Family YMCA, has been working with Brandon as his personal trainer since 2022. She's played a major role in him overcoming the perils of the water and they've built a tight bond because of that. She's enjoyed her experience with him, and she shared just what it's like working with him each week.
"Brandon is an absolute joy. As a trainer, I can't ask for anything more in a client," Sarah said. "He is willing and motivated to try new things. He shows up consistently with a positive attitude that is contagious. Seeing him gain strength and build confidence in the water has been rewarding for all involved!"