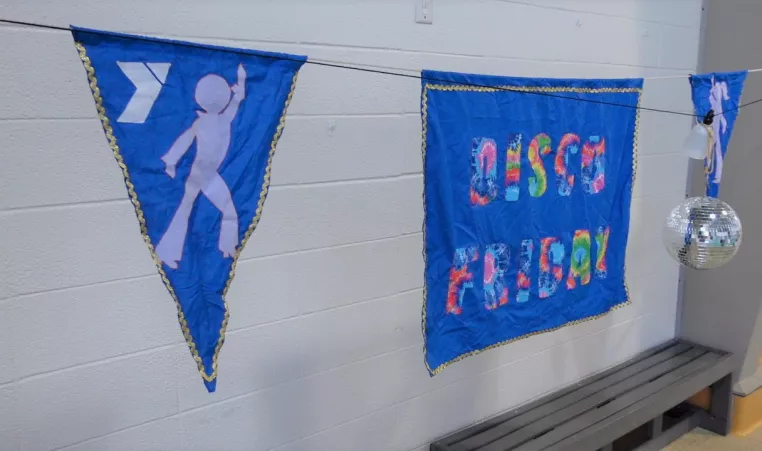 Somewhere, Village People should be applauding what is happening at the Bay View Family YMCA. 
 
Bay View lifeguard Mike McKee felt like his Disco Fever was being impeded when Rochester's Ugly Disco event was canceled for three consecutive years. He thought, why can't Bay View be the new Funky Town? 
 
"Every Friday we have Disco Friday with a special guest that performs," said Mike, who has worked at the Bay View Family YMCA since 2012. "For the last two years now we've been doing it." 
 
The performances have included Enrique Iglesias, James Taylor, the BGs, Barry Gibb, Elvis Presley, Neil Diamond, Billy Joel, and Freddie Mercury (all cover performances, of course).  
 
Mike noted how supportive the members have been of the movement, even bringing in props and making Disco Friday signs that go on display each week.  
A fellow Bay View lifeguard, Lisa Vince, sees many of her Aqua in Motion swimmers joining in on the Disco Friday festivities after class. And while Village People's iconic 'YMCA' tune is a member favorite, Lisa just enjoys seeing them boogie oogie oogie through the water. 
"It really gets you moving, it's as much of a workout," said Lisa, who has been at the Bay View Family YMCA since 2007 and has more than 40 years of experience working for the YMCA. "And a lot of people just enjoy it. You get to be silly and not get to act serious. It raises people's spirits. It's you laugh, it makes you happy." 
Evelyn Silva was a first-time Disco Friday participant earlier this month and she noted just how the experience brought nothing but Good Times. She was glad to keep her body moving and join in on the fun.  
"It was wonderful," said Evelyn. "I feel great. It's good, it's fun, and you meet people." 
Ain't no stopping us now.