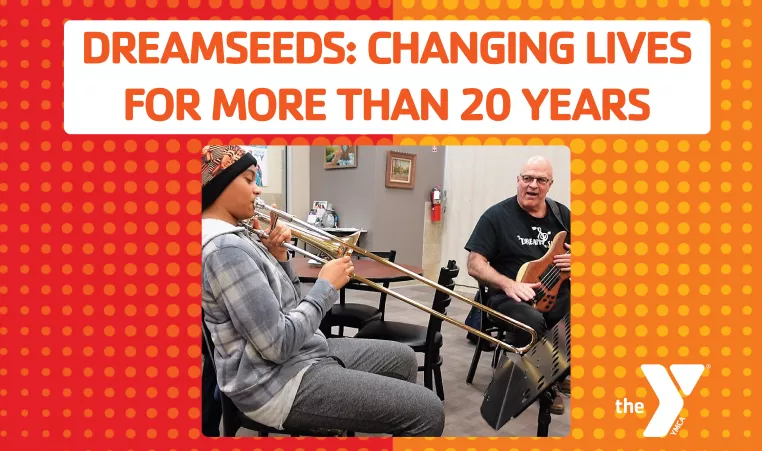 Music. It's one of the most universal languages in the world. And for Bob Pizzutiello, he's seen how it can leave a lasting imprint on kids.
Initially a supporter of the broader Dreamseeds program, which began at the Sojourner House, Bob was drawn to get involved with the program. Knowing there were various ensembles for other activities, like dance and drumming, he thought the idea of a teen-focused jazz band was intriguing.
"I talked to the director, proposed it, [and] they were interested," Bob said. "So I got a bunch of my friends, we did a little jazz demonstration, and we started the jazz program (in 2015). … I just love being with the kids."
Once the jazz band made its way here, Bob was joined by fellow instructor Tony Hiler, and volunteer Craig Mullin. The main premise of their work is to give the kids opportunities to showcase their musical gifts. And, of course, being able to function as a unit — considering so many parts contribute to the band. But Bob believes there are other layers to what the Dreamseeds program provides youth.
"The second level is about communication. Looking at each other and learning how to communicate, sometimes non-verbally," Bob said. "And the third, and probably the most important level, is pretty much everybody in this group, at some point, will try something on their instrument and say, 'I can't do it.' And my response has always been 'of course you can't, because you haven't trained your fingers and your brain together to make that happen.'"
Bob then suggests the students try working on the area they'd like to improve for just 5-10 minutes per day at home for a month. He believes even that amount of time can develop improvement, whether learning the drums or hitting the high notes as lead vocalist.
By the sounds of it, this extra homework amazed the students when they saw how beneficial it can be for them. It's just one of the many life lessons Bob hopes they can take from their time in the band.
"That's the way it is with everything in life; the human brain and the body have to work together. With practice and with some guidance, you can do anything," Bob said. "You can do music, you can do computers, foreign language, math. But it has to happen with practice, and when you say you can't do it, all that means is you haven't yet trained yourself to do it. But you can, you can do anything."