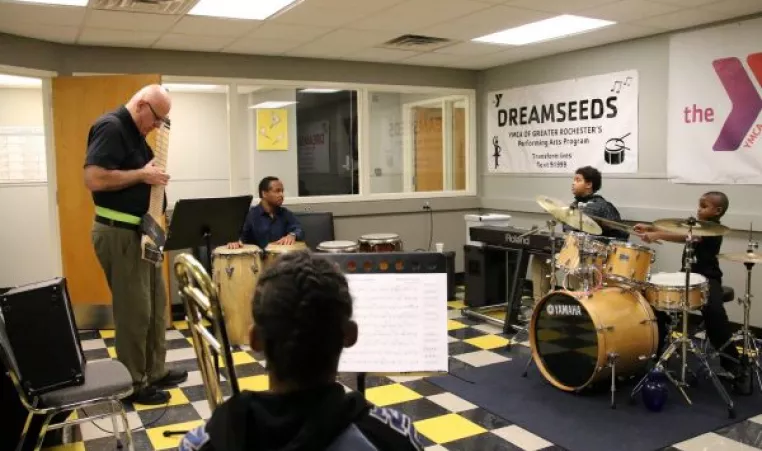 DREAMSEEDS PROGRAM TEACHING MORE THAN MUSIC TO CITY KIDS
CONFIDENCE BLOOMING FOR STUDENTS
Aydan Hodge has always had a love for music. But he never thought he'd get to play in a band and get lessons from professionals in the music industry.
"I can't think of one other time in my life I've been surrounded by these instruments, with people to teach me one-on-one."
Hodge has been learning to play the drums for six years. He started out learning Caribbean drumming, and now is the drummer of the Dreamseeds Jazz Band.
Dreamseeds was created 20 years ago by Lance and Hope Drummond. They wanted to give kids in the city a chance to break cycles, all while giving them a positive outlook on life using the arts. It is completely free for students ages six to 18. There are three different programs that makeup Dreamseeds: dance, music, and fine arts. They learn different styles of each.
"It's not like any other program I've been to. It's more of a friendly vibe. A lot of people are willing to step up."
When he first moved here, Hodge and his sisters spent a lot of time at the program while his parents worked.
"If it weren't for this program, I might be in the streets doing something else. I've had rough parts and wanted to quit, but this program got me through."
AREA ARTISTS PLANTING SEEDS
Curtis Kendrick understands the value of music. It's why he became a mentor and volunteer instructor.
"Music is a great way to interact with and understand them. In the inner city, a lot of kids don't have music. This keeps these kids doing something they really like."
Music is something Kendrick really likes. He's played on national TV, been signed to a record deal, and made it on the Billboard Jazz Charts. His love of music all started because of mentor he had when was young.
"I show these kids they can do this if they put their mind to it. They're dedicated, they come week after week."
Kendrick is one of the area musicians that volunteers with Dreamseeds. He said this is the type of program that makes a difference in the lives of these students. He sees them learning life skills and watches them build confidence with each song they learn, and each time they perform.
Hodge noticed the confidence in himself when he had perform a tap routine at one of their shows a few years ago.
"I was nervous but seeing my family out in the audience really gave me a boost. The smile on their faces put a smile on mine."
GROWING RESUME
In the past, the Dreamseeds Jazz Band has performed for presidential candidates at the Kemp Forum, they've opened up for Kendrick's band, Cabo Frio, and have played at Jazz Fest. Kendrick calls those prior experiences a blessing, but adds they need more.
"That's how we keep getting the word out about this."
Your support the students means they can continue to grow as both artists and young adults.