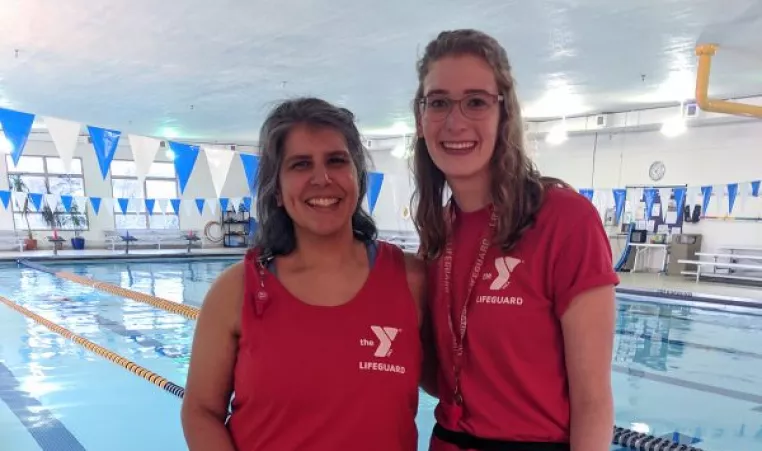 SPLASH WEEK

UPDATE: OUR SPLASH WEEK PROGRAM IS CURRENTLY ON PAUSE.
The YMCA of Greater Rochester believes everyone should learn to be safe in and around water. That's why we open our doors to the entire community each year for Splash Week.
LOCAL MOM, LIFEGUARD BENEFITS FROM SPLASH WEEK
Carolyn Leonard, a mom of four, needed a place where her kids could learn to swim.
"You don't walk more than a mile without water here," Carolyn said.
Carolyn knows how important it for people to be safe around the water, because she's been a lifeguard for much of her life. As a mother and a lifeguard, she knew how critical it was for her kids to get acclimated to the water by working with someone other than herself.
Her kids got to do that through Splash Week three years ago.
Summer is coming and living near one of the Great Lakes and the Finger Lakes, or friends with pools, chances are your outdoor plans will include being near the water. Leonard said that people don't need be Olympic swimmers, but they should know how to be safe around the water, and how to help others.
Research shows drowning is the leading cause of death for children ages 1-4 and the second-leading cause for children 5-14 years of age. Formal water safety education and training can reduce that. Carolyn believes that swimming lessons can help close generational gaps due to fear of water.
"If you didn't grow up with swimming, why not give the opportunity for your kids to be around water?"
Carolyn is now a lifeguard at the Maplewood Family YMCA. She and her family participated in Splash Week as non-members but became members with the help of financial assistance.
SPLASH WEEK DETAILS
Splash Week is a free water safety and basic swimming skills program for those with little or no experience. It is open to the entire community, with priority registration for non-YMCA members.
Classes are grouped by age, from six months to adult, with both morning and evening classes available, and run Monday through Thursday, with Family Swim time for Splash Week participants and their families on Friday. Family swim times vary by branch.
MORE ABOUT SPLASH WEEK