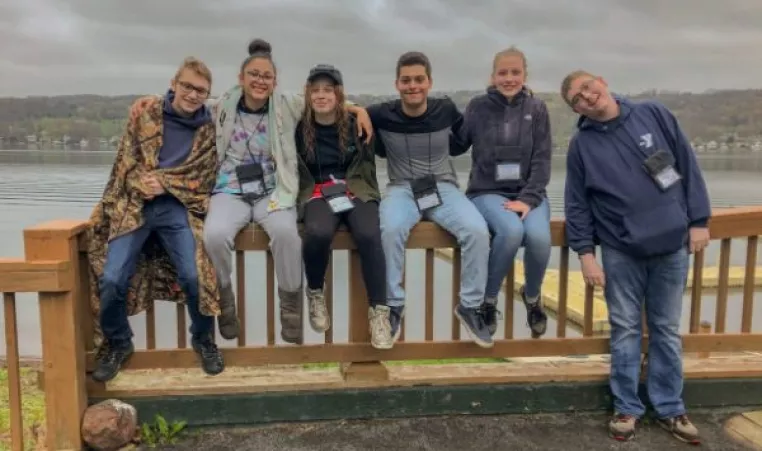 EMERGING LEADERS FOUND IN TEEN PROGRAMMING AT THE YMCA
FIRST TEEN TO SIT ON BRANCH'S BOARD OF DIRECTORS MAKING AN IMPACT
Leilani Hernandez started coming to the Maplewood Family YMCA when she was 7 when her mom started working there. At 10, she played every youth sport and started making friends. It's also when she started learning about how she could become a leader.
"Being a leader means you're someone who sticks out in the crowd and doesn't follow the norm," Leilani said.
Now at 14, Leilani is part of the Teen Leaders Club. The program is designed to give teens (grades 7-12) positive support. They learn to develop personal values through community service, leadership and teamwork.
For the Maplewood Leaders, that means organizing events such as the Halloween maze at their annual Halloween party. They also plan special fundraising events throughout the year, to help them go to rallies across the Northeast, to connect with other teens from YMCAs across the country.
"I've honestly made a family out of it," she said.
She's not only made a family out of being involved with Leaders, she's made an impact on the branch. Leilani volunteers with younger kids and helps out with the free tennis program, Love-15. This year, she became a board member; the very first teen to be on the board at Maplewood.
"I spoke a lot at the first board meeting about Leaders, telling them about all the fundraising we do," she said. "They listened. It showed me they want to get younger people involved."
Every year, board members at every branch of the YMCA of Greater Rochester financially support the Annual Campaign. A donor sponsored Leilani so she could sit on the board.
Maplewood's Leaders advisor believes that shows the teen programming is making an impact.
"It's new and very encouraging to see," said Chuck Hazlett. He's the advisor of the Leaders Club at Maplewood, and Staff Associate for Sports, Teen and Family. "It's empowering for Leilani, and other teens in our program."
Leilani is proud to be that younger voice on the board. She knows the opportunities she has had at the Y are priceless. Opportunities are available to all because of the YMCA of Greater Rochester's Annual Campaign for Financial Assistance. And she knows without those opportunities, and support from the community, more kids and teens would be on the streets.
"I love the Y because it's a great place to grow up. It's great that we don't turn anybody away because they can't pay."
Learn more about ways to support the YMCA through volunteerism and donations to the Annual Campaign.