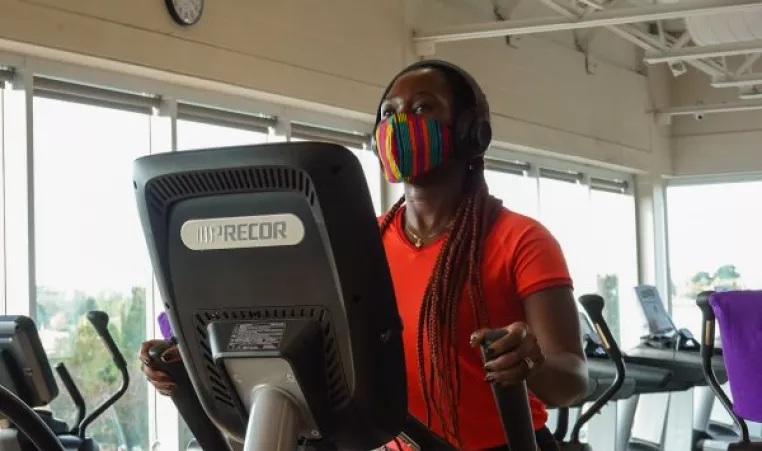 EXERCISING WITH A MASK: THREE TIPS TO HELP
KEEPING YOU ACTIVE AND SAFE WHILE AT THE Y
We get it. Wearing a mask while you're working out is a major adjustment.* Safety will remain our No. 1 priority, so we wanted to share some tips with you that our Health and Wellness teams across our Ys have shared when it comes to exercising with a mask.
THREE TIPS TO HELP ADJUST TO WEARING A MASK
FIND YOUR MASK
We are all different; make sure you find the mask that is right for you. There are plenty of different mask out there to choose from, but you want to make sure you have one that is covers your nose and mouth completely and is comfortable for you. Mike Avery, Senior Director of Health and Wellness at our Eastside Family YMCA, says it's important to find a mask that is secure. He says cotton ones tend to stay put when you're using cardio equipment, but the most important thing is to find the one that has a "better feel when you're working out."
FOCUS ON YOUR BREATHING
Even when not exercising, a lot of us have has to learn to manage our breathing with a face mask. And it may sound silly, but it's so important to just breathe. Slow, deep breaths will help, and breathing out through your nose will create less moisture in your mask. Wellness Coach Rob from our Corning Family YMCA encourages members to take slow it down if you feel yourself having harder time breathing. He adds that "deeper breaths will actually help with the diaphragm, too."
KNOW YOUR LIMITS
It's been a while since you've been at the Y, or maybe even exercised in general. So don't expect to be at the same level you were prior to our closure. Tamara Shove, Group Exercise Coordinator at our Maplewood Family YMCA, stresses the importance of not skipping the warmup before a workout, and easing back into your routine. It's ok to push yourself, but don't compare yourself the person on the next machine over, or member in a Group Exercise Class with you – make sure you are listening to your body.
If you have any questions while you're at the Y, please do not hesitate to ask a member of our Wellness Team. They're ready to greet you with a smile (even if you can't see it) and eager to help you on your wellness journey.
*You can find the YMCA of Greater Rochester's Mask Policy here.