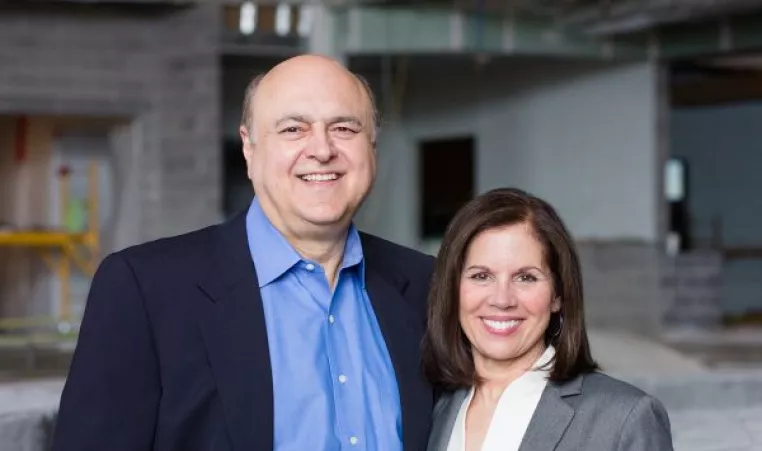 $1 MILLION GIFT FROM ED AND ANN PETTINELLA NAMES AQUATIC CENTER AT SCHOTTLAND FAMILY BRANCH
PETTINELLA'S HAVE BEEN LONG-TIME SUPPORTERS OF THE YMCA OF GREATER ROCHESTER
The YMCA of Greater Rochester is pleased to announce the state-of-the-art aquatic center at the Schottland Family YMCA has officially been named. Rochester businessman Ed Pettinella and his wife, Ann, have donated $1 million, and with their gift, the center will bear the name the Pettinella Aquatic Center.
The 18,000-square-foot aquatic center is one of the signature elements of the new branch, featuring a warm water pool with a splash pad and current channel that will always be open for family swim. The center will also include a lap pool, whirlpool, sauna and steam room.
Ed, the former CEO of Home Properties Inc., has been involved with the Y since the late 1970s when he joined as member. The more he learned about the Y's mission to serve the community, the more his interest and commitment grew. Ed served on the YMCA of Greater Rochester's Corporate Board for more than a decade, part of that time as chairman.
"The Y's mission of inclusion – offering a multitude of multi-generational programming – is extremely important to Ann and I," said Ed. "The Y offers unique spaces, like the Pettinella Aquatic Center, that will bring the whole family together. We are honored to be part of strengthening the community we care so deeply about."
Together with Ed, Ann shares a deep commitment to the YMCA, having been a member of the Southeast Y for more two decades and serving on its Branch Board. Seeing the new branch become a reality has been a powerful experience for the couple.
"Now is the time to make this transformational gift because we are writing history with this new branch," Ed said. "The Schottland Y is the flagship facility in an expansion plan sketched many years ago."
 The YMCA is much more than a fitness center; it is a powerful agent of community change. The Y's operational success in suburban facilities contributes to the development and delivery of programs at the Y's urban sites.
"The new branch's advanced programming will further the Y's mission to ensure the health and wellness of our community and equal opportunities for all," Ann said.
"Ed has been a phenomenal leader, supporter, mentor, visionary and contributor to the YMCA of Greater Rochester in so many ways," said YMCA of Greater Rochester President and CEO George M. Romell. "In my two decades as CEO, Ed has helped shape the strategic vision of this organization. I am deeply appreciative to the Pettinella Family for helping to make this dream a reality."
Fundraising is ongoing, with a goal of securing 50 percent of construction costs through philanthropy prior to opening on September 30.
MEDIA COVERAGE