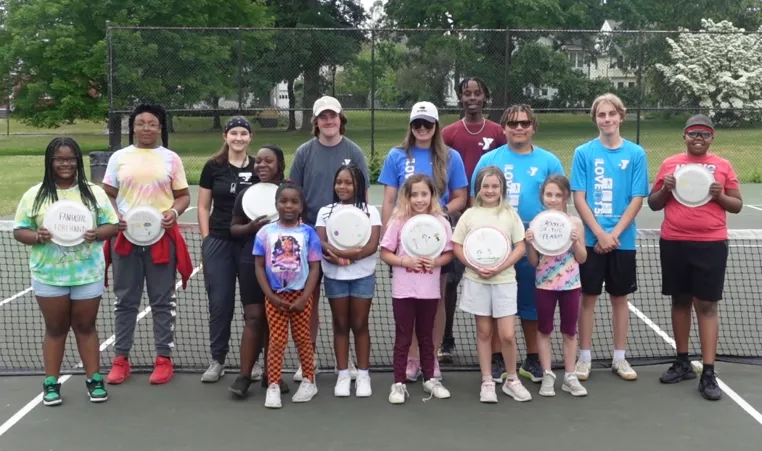 It's National Tennis Week, so what better way to celebrate it than by talking about Love-15? For those of you who are wondering, "What's Love-15," we've got you covered! 
 
Love-15 is a free, six-week group instructional program for Rochester City youth ages 7-17. The program is designed to teach tennis skills while developing values. 
 
Devon McFadden, Director of Urban Sports, has been overseeing the program since the spring of 2022 and does not take the opportunity to work with these kids for granted. 
 
"I consider it an honor, I think it's a really cool program," said Devon, who also has a background in athletics having swum at the Division I level for St. Bonaventure University. "It's been going on for 31 years, so I have obviously inherited it late into the game. And I think the foundation that has been built has just been phenomenal and it's cool to talk to alumni and people throughout town who have always been a part of the program." 
Speaking of alumni, one former Love-15 player has become one of Devon's top coaches. Audrey Moore, Love-15's Lead Tennis Instructor, has been attached to the program either as a player or a coach since 2011. She participated from the time she was 8 until she was 16, then she got into coaching from there, joining the staff alongside coaches she once received tutelage from. 
 
"Something about the program, I just have to come back to it," said Audrey, who also competed in high school tennis. "Especially during the summer program, getting to interact with the kids, and seeing them progress their skills over a six-week period of time is just incredible. Seeing those light bulb moments when they finally get a skill they've been working on so hard for so long, it's just absolutely incredible." 
 
While she likes the competition, Audrey enjoys how Love-15 highlights other aspects of tennis, like teamwork, respecting and communicating with others, and the friendships that are formed from being a part of a team.  
 
The aspect of Love-15 that Devon enjoys most is that it is a fun, free program that brings kids from the City of Rochester together through a sport they may have never played before. But she also loves seeing the life skills that the game gives them as they go. 
"I would consider it less of a tennis camp and more of a life skills camp," said Devon. "I think that there's definitely some traditions that have been passed down about how we treat teammates and just building a good culture that has always been enforced over the years, and it just makes it that much more awesome." 
 
Marlie Jade Wilson said playing tennis through Love-15 puts her in her "comfort spot" when she needs to zone out and rein in her emotions. 
 
"If I'm angry or something, if I play tennis, it calms me down," said Marlie, who's been a part of Love-15 since 2021. 
 
If you are a kid living in the City of Rochester who may be waffling about trying tennis for the first time with Love-15, Audrey had a message she'd like to share. 
 
"When I was in the program, it brought so much more to me than just the sport," said Audrey. "It brought community with other people my age, who looked like me, who didn't look like me. It brought me together with a whole group of different people, and we were able to connect over things that weren't just tennis."
MEDIA COVERAGE