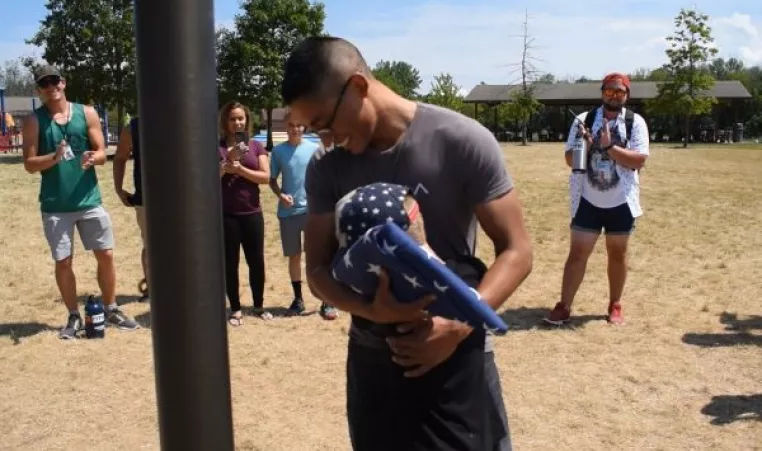 MARINE SURPRISES BROTHER AT CAMP NORTHPOINT WITH RETURN HOME
WHAT SEEMED LIKE A NORMAL DAY AT CAMP, TURNED INTO A DAY THAT ONE CAMPER WILL NEVER FORGET
Aiden McGuire and his fellow YMCA Camp Northpoint Meteors gathered at the flag pole on a sunny Wednesday afternoon. That's where Aiden met Jeff Lathrop, Senior Membership Experience Director and United States Navy Veteran.
They started talking about what Aiden liked about camp before Lathrop asked him if he had noticed that the American flag hadn't been raised this morning at camp like it usually was.
Lathrop then asked if Aiden was up to the task of raising the flag. Aiden, wearing a hat donning the American Flag, bravely accepted the task. When he turned around to raise it, someone special to was there help – his brother Isaac.
Isaac is a Lance Corporal in the United States Marines and is stationed at Twentynine Palms in California as a Field Radio Operator with the 1st Marine Division 3rd Battalion 4th Marines HNS Co. Aiden hadn't seen him in months.
Isaac and Aiden hugged and shared a tearful reunion before raising the American flag.
The reunion, a surprise to all campers, was a moment that is sure to be remembered for a lifetime.
"It was an honor to be a part of this, to help make it happen" said Lathrop. "The separations can be long, so every moment together is cherished."
The YMCA of Greater Rochester is an affiliate member of the Armed Services YMCA, and proud to support our military families. Join us in saluting Lance Corporal Chapa, and all in our Armed Forces and their families, for their sacrifices to our country.