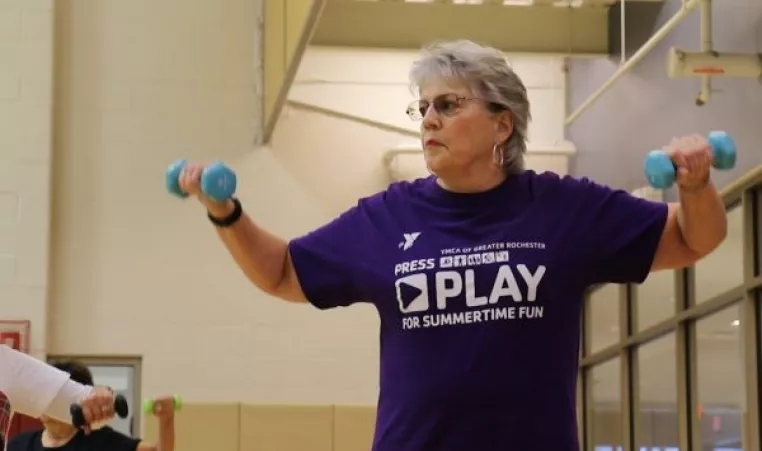 MY Y STORY: DIANE'S LIVESTRONG JOURNEY
HOW THE PROGRAM GAVE HER A SUPPORT SYSTEM
Diane Rehse is a survivor. She was diagnosed with, and treated for, melanoma and ovarian cancer.
"When you go through cancer, it's so different for everyone individually. In my case, I had a particularly difficult time because I went through chemo and transfusions," she said.
After her surgeries, she was struggling with fatigue, muscle weakness and balance problems. That's when a friend told her about the LIVESTRONG program at the Eastside Family YMCA.
"I learned about balance, nutrition and took classes with other people who had also experienced cancer and it was a great synergy of a group where you felt like you belong and you all learn together," Diane said.
LIVESTRONG at the YMCA is designed for adult cancer survivors. The small group, physical activity program helps to build strength, increase flexibility and endurance and ultimately improve quality of life. In addition to the physical benefits, the LIVESTRONG provides a supportive environment with fellow survivors, YMCA staff and members.
"No matter where you're starting from, you can always go up a little more and feel a little happier emotionally and be with others who are going through the same thing at the same time," said Diane. "It's made a profound impact on my life."
A final goal of the program is to assist in developing physical fitness program so participants can continue to practice a healthy lifestyle – not only as part of their recovery, but as a way of life.
The program is free and puts an emphasis on health, not the disease.
"There's hope. By being the best you can be – which means nutrition, exercise – I believe you can live a longer life."
She carries the LIVESTRONG brochure with her everywhere, because she wants others to feel like she does, and experience all that she has.
Thanks to the program, Diane has been able to try new things, like pickleball, water aerobics, yoga and TRX. She now loves working out and meeting new people.
"I feel like it's family. When I come to the YMCA, many of the people know my name and I know their name. There is no discrimination, there's no you're this and I'm that, we're all equals here."
Learn more about how the LIVESTRONG program can help you or someone you know.