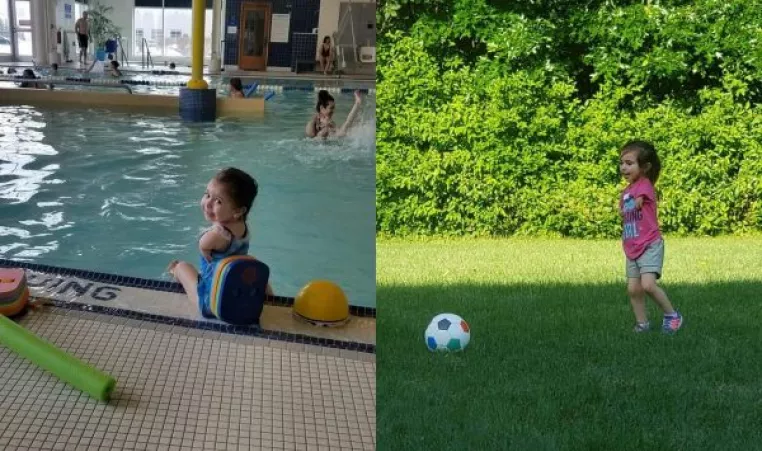 MY Y STORY: PANDORA'S CONFIDENCE BUILDING
FIVE-YEAR-OLD LEARNING INDEPENDENCE AT THE Y
Five-year-old Pandora Lombardi loves country music and her cats. She also enjoys swimming and playing soccer. For those, she and her family come to the YMCA of Greater Rochester.
"We love it," said Shauna Lombardi, Pandora's mom. "Everyone is so inviting. Pandora always wants to come."
While Pandora may think and act like your typical five-year-old, she does have to overcome some things that most kids her age do not.
Pandora was born with Holt-Oram Syndrome. Her younger brother was, too. It's a genetic condition that causes heart conditions as well as abnormalities in the arms and hands, making it hard for Pandora to get dressed, write, color and even eat.
"When we originally spoke with the Y, they said that it is really easy to work with people with disabilities," Shauna said. "And that means my kids can do everything that another kid is able to do, and be in the same group as them, instead of pushed off with other kids with disabilities."
Pandora is involved with more programs at the Y. She played soccer for the first time this summer and has been a part of Splash Week the past two years. What she's gained from being a part of both, goes way beyond skills on the field and in the pool.
"She has been more involved in her school's gym class where before she had been very standoffish," Shauna said. "She's made some really great friends, and to see her out there doing it is amazing."
And if it wasn't enough for Shauna to see the confidence building in her daughter from the Y, this fall she had special message from her idol.
"She got to meet Carrie Underwood. She just went nuts when she saw her. Carrie encouraged her to be brave and keep trying and do what she loves."
And Pandora and her mom are taking Carrie's advice. She'll soon be taking one-on-one swim classes at the Y, to build more confidence around the water and be able to swim at parties without her parents, just like all of her friends.
"I think it's amazing the Y can help us to make her an independent person."