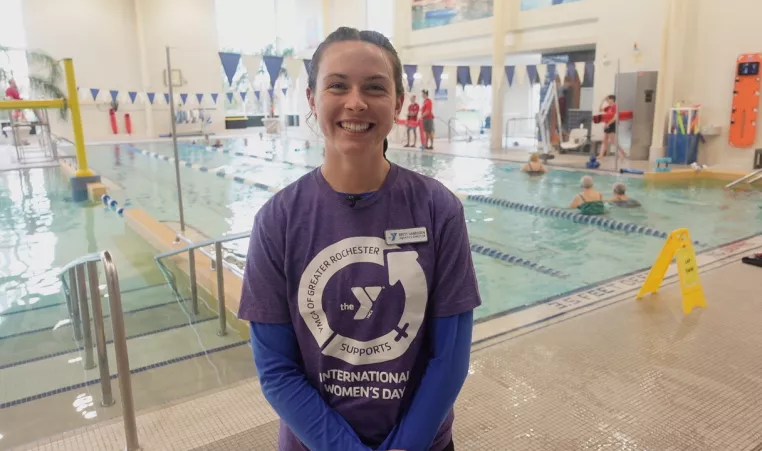 Brett VanBoden, the Westside Family YMCA's Aquatics Director, has become a triple threat; working professional, graduate student, and athlete. Speaking of triple threats, Brett is realizing her athletic dreams at Roberts Wesleyan University in three different events, as she is set to compete in the Division II competition at the NCAA's National Sun Devil Triathlon Classic at Arizona State University in Tempe, AZ.

"It's definitely been very busy, but I've been so blessed to have coaches and Meghan (Westside Family YMCA's Executive Director), who have just worked with my schedule and made it possible to do it," said Brett, who is leading the Redhawks in their inaugural season as a of the triathlon program.

With 30 teams spanning the Division I, II, and III levels, the triathletes will compete in a draft-legal sprint-distance course that includes a 750-meter swim, a 20-kilometer bike ride, and closing it out with a 5K run. She is RWU's lone National Qualifier after posting a personal-record time of 1:16:12.7 at the NCAA East Regionals at the Blue Ridge Triathlon Festival.

We're sure you're wondering "what does a day in Brett VanBoden's life look like with a full-time job at the YMCA, grad school, and competing for RWU Athletics?!" Well, we'll let Brett speak for herself.

"Three days a week, we have a lift in the morning for swim, so I'll get up, go to swim practice, and then come to work," said Brett, who additionally competes for the Redhawks' swimming and diving program. "And then I go to afternoon practice, and then depending on if I'm closing the branch here or not, I either come back to work or I go back home to either do homework or class, depending on the night. And then dinner with my family and bedtime so that I can get up for the next day and do it all again."

Despite having no prior competitive swimming experience, Brett walked on to the Redhawks swim team as a freshman and has competed with them for four years throughout her undergraduate tenure. She then earned an athletic scholarship and became the program's first woman to serve as team captain. Brett's experience in the pool made it easier for her to consider adding a second sport with the triathlon, especially factoring in that swimming is one of the three events she would be competing in. This has allowed her to wade between the two teams by training with the swim team throughout the week, even amid training for nationals. Brett has extended her time as a student-athlete by taking on this extra year that collegiate athletes were granted due to the COVID-19 pandemic.

Brett noted the flexibility RWU's Master's in Strategic Leadership program has afforded her by solely taking classes online and many assignments being in group projects. She is currently in the second term of a two-term program that is split up throughout each semester.

Now, how does the YMCA factor into this mix? It's been an integral part of Brett's path to this point. At 16, she began working for the YMCA in Child Watch and Aquatics near her hometown in Syracuse, before joining the Westside Family YMCA as a lifeguard in 2018. She went on to become a coach at the Maplewood Family YMCA for its Swim Team in 2019 before returning to the Westside branch, working her way up to her current role.

"The Y really kickstarted everything in my athletic career," she said. "I took swim lessons as a kid through the YMCA back in Syracuse, so that's where I learned how to swim, that's where I had one of my first official jobs, and my lifeguard classes, they were all through the YMCA."

Even during her gap year between undergraduate and graduate school at RWU, Brett said the bulk of her triathlon training was at the YMCA.

Culminating RWU's inaugural season as a triathlon program at the Women's Collegiate Triathlon Championships has made for an amazing — yet nerve-racking — experience for Brett. She's battled injuries throughout the season, but she said that being a part of the YMCA community has alleviated some of the challenges she's faced with those ailments.

"Honestly, being here at the Y was the most helpful for that because everybody here was just very encouraging. My staff would be like, 'How are you doing? You're doing great, we're sure you'll be fine!' It was just helpful to have that support," said Brett. "I'm nervous for sure as anyone would be, but I think just being able to go is such a blessing that no matter what I do, no matter how I place, I'm still going to be psyched because we made it."

Brett will begin competing at the Sun Devil Triathlon Classic with her first heat starting at 2 pm EST on Saturday, November 11. You can follow Brett throughout the competition by visiting the event's Athlete Tracking page.