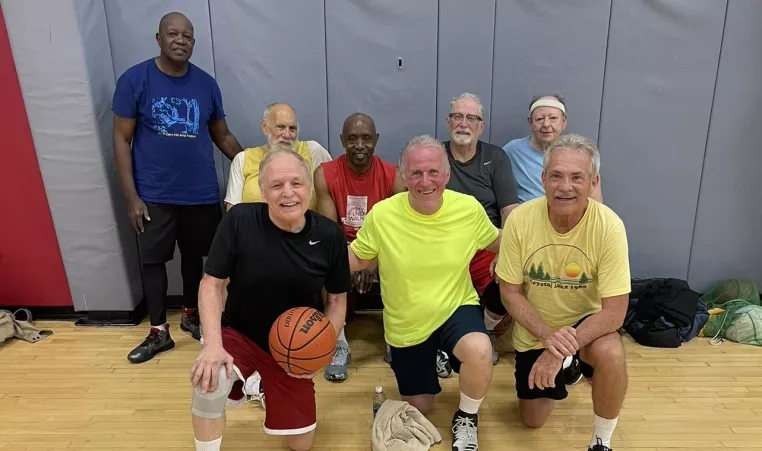 As we celebrate 50 years of fun at the Northwest Family YMCA, let us focus on one of our key pillars: healthy living.  
 
Basketball is an integral piece of the YMCA's inner fabric — the world-renowned sport was invented in the halls of the Springfield YMCA by Dr. James Naismith in 1891. And for a group of Active Older Adult (AOA) members at Northwest, it is the most integral part of their YMCA experience. 
 
Stephen Karnisky has become the leader of the group, organizing the Wednesday morning hoop sessions, and emailing the guys to keep them in the loop on schedule changes and other meetups. 
 
Stephen's basketball life was extended a bit during the COVID-19 pandemic as he got both of his knees replaced. As much as it has benefited his quality of life, he was looking forward to getting back on the court with his friends. 
"Melinda was kind enough to give us a portion of the gym on Wednesdays so we could play with guys our own age," said Stephen regarding Northwest Family YMCA Executive Director, Melinda Peck. 
 
But these guys do not just play basketball; they are real hoopers. Stephen is just one of the group members who has competed in the National Senior Games, which takes place this year in July in Pittsburgh. To qualify, you must either be 80 years of age, or you must medal at a state-qualifying tournament. 
"We've had groups for more than 20 years that play," said Stephen, who will compete in the Empire State Senior Games in June. "New York state, Maine. We played in Connecticut and Vermont." 
 
Stephen added that they have competed at Stanford University in California, in Cleveland, Ohio, as well as Birmingham, Alabama.  
 
Ironically, Stephen said he never played organized basketball — not even in high school or a YMCA league. But he says his love for the game came when he attended Niagara University at the same time as Naismith Basketball Hall of Famer Calvin Murphy. And although he never really got onto the court until he became a YMCA member, Stephen is thankful that he did. 
 
"It means a great deal to me. We've developed these friendships for a lot of years," said Stephen, who is also a Greece resident. "It's a lot of fun, nice people. At our age, we're pretty good about not trying to hurt anybody on the court, which is always good. If you get knocked down, you get back up again and keep playing." 
The speaker of the group is Bob Christiano, who always pokes fun at the guys for being the youngest of them all. How much do these guys mean to Bob? Just consider how far he comes to visit Northwest. 
 
A resident of Livingston County, Bob heads to work in Batavia. But he always makes sure to take Wednesdays off so he can hit the court with the guys and lift weights. 
"I look forward to coming in and seeing a lot of the guys," said Bob, who played college football at the University of Rochester and semi-professional football with the Hornell Dragons. "We talk about things that have happened the last week. And then we just pick up teams, and we're all friends up until we start playing, and then sometimes you never know what can happen."  
 
Bob said the group's competitiveness does not deter from the respect and sportsmanship that is shown with postgame handshakes. He said a big part of that is knowing that friends must be valued as we get older in life. But to Bob, that is why the YMCA is a special place; friendship and community have the utmost importance here. 
 
"The YMCA to me, since I never had joined one before and we didn't have one in our area, it's been great," said Bob. "I can see why people come every day, just to work out, just to participate in other activities. If I lived closer, I would be here every day or every other day, so I really look forward to it." 
 
From attending Buffalo Bills games together and other major events like the PGA Championships and the Super Bowl, to competing against each other on the court, Bob is appreciative of how the YMCA has brought them all together. 
 
"The YMCA, I can't thank them enough," said Bob. 
 
Thank you and your friends for continuing to join us at Northwest, Bob and Stephen.