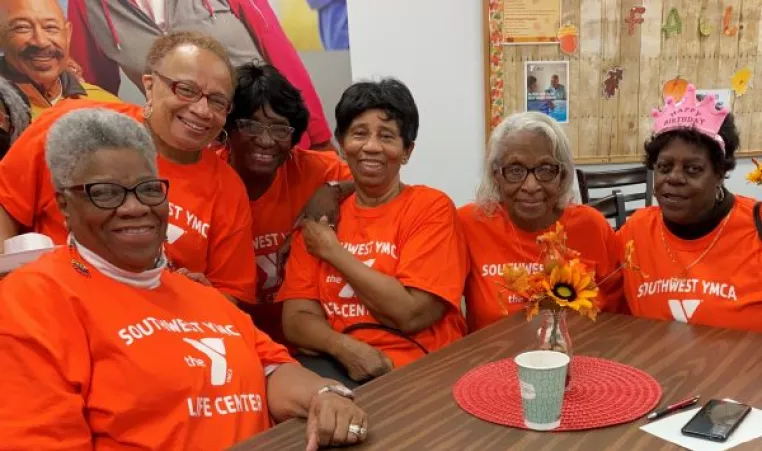 SOUTHWEST FAMILY YMCA CELEBRATES OPENING OF RESOURCE CENTER
PROJECT MADE POSSIBLE BECAUSE OF PARTNERSHIP WITH UNITED WAY OF GREATER ROCHESTER AND THE FINGER LAKES
Rochester, NY – As part of ongoing efforts to enhance urban services, the YMCA of Greater Rochester has opened a Resource Center for aging adults at the Southwest Family Branch* in the 19th Ward in partnership with the United Way of Greater Rochester and the Finger Lakes.
"We are proud to be part of reinventing what a center for older adults can be in the community," said George Romell, President & CEO of the YMCA of Greater Rochester. "Our greatest hope is that this Resource Center will bring together partners in a way that can meaningfully serve aging city residents in one place."
Rochelle Brock, a member of the Southwest Family YMCA, is excited to be a part of that, too.
"The Y is fulfilling a need in the community," said Brock. "Especially now, after COVID, the way we've been in house, the way we couldn't feel like we could trust anywhere we went, we know now that we can trust coming in here and be very comfortable."
Brock comes to the Southwest Family YMCA* every week to exercise. She said after her knee surgery, exercising on machines and taking group classes has helped her. Now, she and other members have a dedicated space to come after their workouts to enjoy conversation and breakfast thanks to this partnership that also includes Foodlink.
The need for better urban services for older adults is evident. The Commission on Racial and Structural Equity found vast disparities in resources, physical space, and programs between senior centers in urban and suburban location. The Resource Center at the Southwest Family Branch allows the YMCA to connect members to partners like Foodlink, Lifespan and the United Way of Greater Rochester and the Finger Lakes.
"The United Way not only supported our ability to survive the pandemic but worked with us throughout the year and continue to help us reinvent our services in the City of Rochester," Romell said. "Their partnership is the cornerstone to much of what we do."
"We recognize that with a growing older adult population, Aging Resource Centers are vitally needed to address the health, social, economic and service disparities of many older adults," said Wanda Cooper, Director of Community Impact of the United Way of Greater Rochester and the Finger Lakes. "The opportunity for older adult participation in enhanced fitness programs, fall prevention programs, food access, social engagement, intergenerational activities and much more will make this a true Resource Center in the community that will improve the health and wellness of its participants."
The Resource Center will serve as a place that not only provides health and wellness opportunities and combats isolation but provides crucial information for seniors. Monthly, the Center will host talks and workshops, focusing on topics such as scam prevention and stroke education.
"It's providing a good resource for those in the community who are going to take it back out," said Brock. "The Y is here for anyone who wants to walk in the door and begin to build those muscles."
The Resource Center will be open from 9 am to Noon Mondays, Wednesdays, Thursdays and Fridays for members of the YMCA to use.
MEDIA COVERAGE
*Please note – effective May 2022, the Southwest Family YMCA is now the Thurston Road YMCA Neighborhood Center.