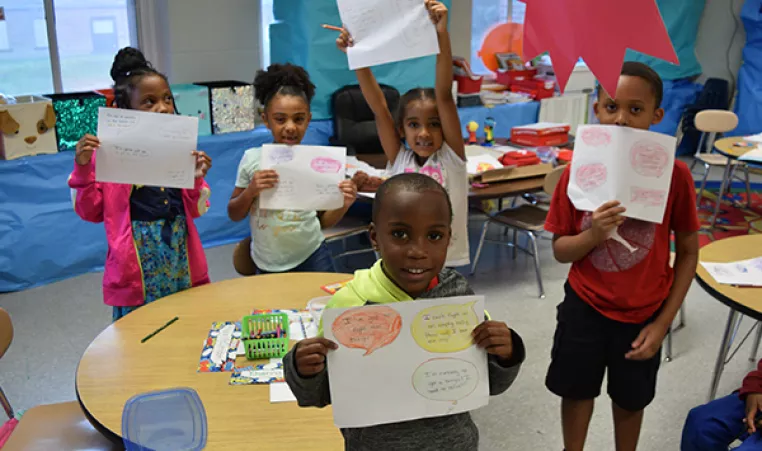 YMCA ENRICHES SUMMER LEARNING FOR HUNDREDS OF CITY STUDENTS THROUGH POWER SCHOLARS ACADEMY
ROCHESTER, N.Y. — The YMCA of Greater Rochester has been helping bridge the educational and social-emotional gap for students each summer through the Power Scholars Academy™. Now in its fourth year, the program benefits close to 200 Rochester City School District students each summer.
"We see three months of academic gain in the span of one-month with Power Scholars," said Loren Montrallo, YMCA's program director for Powers Scholars Academy. "The YMCA has the opportunity to focus on the scholar as a whole, so we start with building relationships as well as managing emotions and self-regulation. This increases the scholar's ability to achieve more in the classroom, making them better prepared for the upcoming school year. And when that is compounded year after year, you see amazing growth."
The Power Scholars Academy is based on evidence-based model BellXcel (Building Educated Leaders for Life) which blends rigorous, small-group academic instruction with camp-like enrichment activities over a five-week period. The program draws from the grades K-7 in the district and takes place in at Roberto Clemente School No. 8. In four summers, the program has served more than 500 Rochester city students. Power Scholars Academy is free to families thanks to financial support from the United Way of Greater Rochester as well as the district, YMCA of Greater Rochester, and YMCA of the USA.
"The YMCA of Greater Rochester is committed to working together with our partners at the United Way of Greater Rochester, and the Rochester City School District to bridge the growing achievement gap and put a stop to summer learning loss for all of our youth in Rochester," said Todd Waite, YMCA Vice President of Youth Development. "The results of these partnerships are stunning, our Y Power Scholars Academy Program continues to grow each year and we are seeing tremendous growth in the math, literacy, and social-emotional skills of the youth in our program."
MAKING A DIFFERENCE
A key strength of Power Scholars Academy is the structured academic curriculum. YMCA staff collaborates with teachers from public schools to provide lessons in reading, math, and social-emotional learning, as well as physical activities. The staff of 37 is led by a team of New York State-certified teachers and summer youth employment program through Rochester Works. Power Scholars Academy is also helping parents become more involved in their children's education.
"I feel like I'm making a difference in children's lives," said Katy Weber, a certified teacher and administrator who is the Parent Family Liaison for Power Scholars. "I've worked on many different programs, and what the YMCA promotes is relationships and none of this is possible without that."
According to BellXcel, children who lack summer learning experiences tend to lose academic skills during the school break. Montrallo and his team do believe they are changing lives through this program.
"I truly believe it is the social-emotional learning that fills the gaps," Montrallo said. "Our scholars must be comfortable in a classroom and with their peers before they can tackle academics. And that is why our program has seen so much success, summer after summer."
NEWS COVERAGE