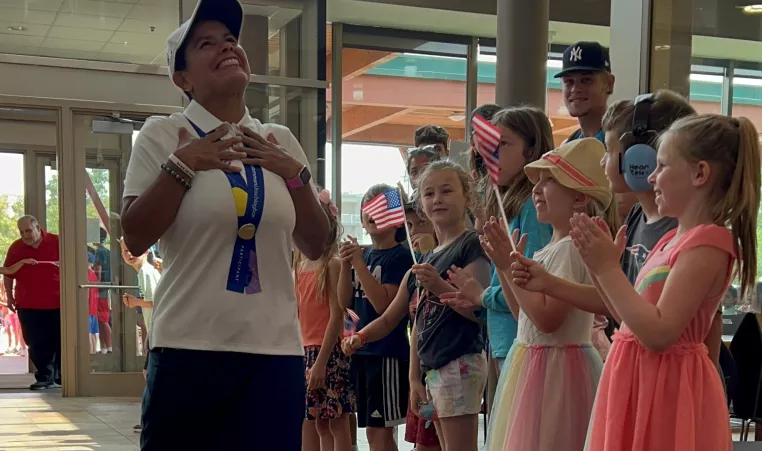 ROCHESTER, NY – Amanda Vito has many titles – Teaching Assistant, athlete, friend. Now, she can add one more to the list – Special Olympian World Games competitor. After being a part of Special Olympics for two decades, Vito returns home from her very first Special Olympics World Games in Berlin, Germany, where she and her unified partner and friend Martha Pachuta represented Team USA in golf.
"My time in Berlin was the best experience ever," said Vito. "Being at the World Games with Martha was the best thing in my life. It was so cool playing golf, being with my partner and the experience of being in Berlin overall!"
Vito works at the Eastside Child Care Center at the Fairport Baptist Homes, part of the YMCA of Greater Rochester. She's been a part of the YMCA as a member and staff for 21 years, working with children of all ages. Loved by fellow staff, as well as parents and the children she works with, Vito shares her enthusiasm for sports and the Y wherever she goes.
"Amanda lights up any room she walks in with her positive outlook and smile," said Katie Qazi, Center Director at the Eastside Child Care Center. "We know how incredibly hard she works both at the Y and training for Special Olympics. Watching her follow her passion competing in the World Games has made us all so proud."
Vito is a lifelong athlete, competing in multiple sports for Special Olympics locally and nationally. Bank of America has been a longtime supporter of Amanda. With the YMCA, the bank celebrated Vito's accomplishments and homecoming at the Eastside Family YMCA, complete with staff from both organizations, as well as YMCA members and campers.
"For more than 40 years, Bank of America has partnered with Special Olympics to support athlete empowerment and leadership on and off the field," said Colleen Matteson, president, Bank of America Rochester. "Amanda plays an integral part in our community, not only as our local Rochester Special Olympics hometown hero but through her work with our longtime partners at the YMCA."
Vito was one of the nearly 100 athletes representing the United States in this year's Special Olympics World Summer Games. She is an advocate for Special Olympics and credits the organization for helping build her confidence.
MEDIA COVERAGE