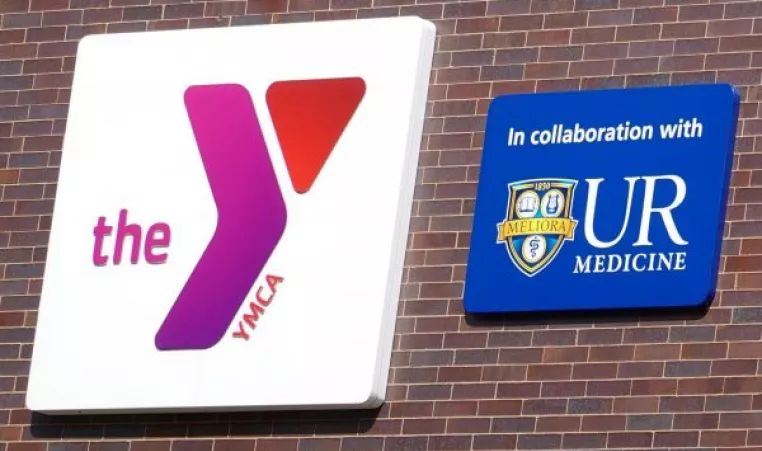 YMCA, UR MEDICINE PARTNERSHIP GROWING
WOMEN'S HEALTH AND PRIMARY CARE OFFICES TO OPEN IN SCHOTTLAND BRANCH
The YMCA of Greater Rochester is dedicated to improving the overall well-being of the community. One of the ways that is done, is through the partnership with UR Medicine.
The 11-year agreement was announced last year, expanding upon a partnership that began in 2004. The partnership is continuing to grow in the 15,000 square feet of space in the soon-to-be-opened Schottland Family YMCA for Highland Women's Health and Rochester Internal Medicine Associates.
"We are excited to be working with the YMCA promoting programs to assist our patients in achieving their goals for healthy lifestyles as well as gaining access to various programs for diabetes prevention and promoting cardiovascular health," said Dr. Margaret Bergin, Site Medical Director for Rochester Internal Medicine Associates.
Rochester Internal Medicine Associates will have the YMCA's evidence-based programs to support their patients on their wellness journey. The primary care facility will have six doctors and two nurse practitioners. They will be moving their current practice at White Spruce Boulevard to the Schottland Branch.
"I think it's going to offer really great opportunities for our patients to make use of the YMCA facility and services including health and wellness programs," said Dr. Gary Noronha, a physician with Rochester Internal Medicine Associates.
With their move, the YMCA and UR Medicine will continue working together on programs to help with patients' needs, like heart health, diabetes prevention, LiveSTRONG and cancer survivorship. Both Dr. Bergin and Dr. Noronha are looking forward to being so close to additional programming, to help with healthy aging for elderly patients and preoperative and postoperative therapy for orthopedic patients.
WOMEN'S HEALTH COMING TO SCHOTTLAND
There will also be a separate space for women's health. Highland Women's Health will be opening its fourth location inside the Schottland Family Branch, offering OB/GYN care for all ages, ranging from contraception and prenatal to postmenopausal care.
"We're excited about how convenient being located in the Y will be for our patients. Now women will be able to combine their appointments with workout classes, primary care appointments, and even childcare, all in one location," said Dr. Carole Peterson, a physician with Highland Women's Health.
Dr. Peterson hopes to increase education and program usage with this move. There will be an OB/GYN physician, a nurse practitioner, physician assistants, and for the first time, midwives from the University of Rochester's Midwifery Group, working with them side-by-side, in this office.
THE FUTURE OF THE PARTNERSHIP
The two offices will work closely with one another, and with the YMCA. Integrative health is a trend nationally; the Y and UR Medicine want to make Rochester an example in that trend. As this 11-year collaboration expands, more collaborative health programs, such as Stop the Bleed, will become available at all YMCA of Greater Rochester locations.