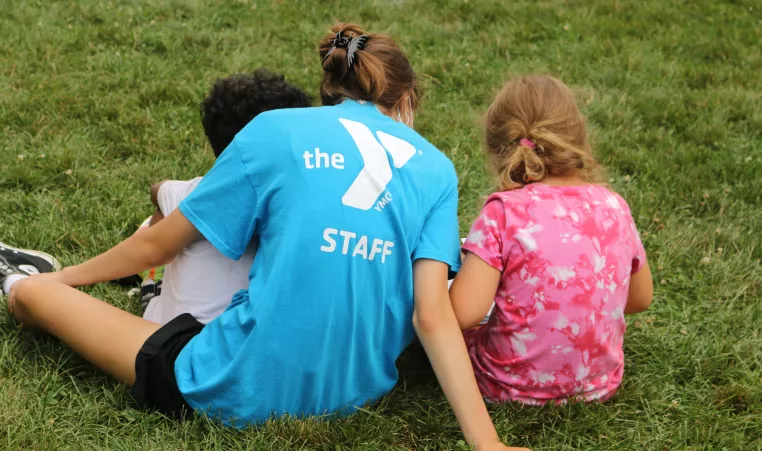 YMCA, URMC Partner to Train and Support Youth at Camp
Rochester, NY – Each summer, to get ready to serve hundreds of campers every week across our day and overnight camps, staff working at these locations throughout the YMCA of Greater Rochester go through weeks of training. That training includes focusing on child abuse prevention, camp programming for all ages and abilities, behavioral management and more to ensure we create a safe, engaging camp experience for all. This year, the YMCA of Greater Rochester collaborated with partners at the University of Rochester Medical Center for a new, important training – Youth Mental Health First Aid.
"The Surgeon General just declared a mental health crisis in our kids and adolescents," said Dr. Melissa Heatly, Child Psychologist, University of Rochester Medical Center. "This has been a crisis that has been budding since before the pandemic, but really has reached a fever pitch over past several years."
In the spring, Dr. Heatly and leadership staff throughout the YMCA's camps began Youth Mental Health First Aid Training – a gold standard, evidence-based training curriculum which helps adults to identify, approach, refer and support children and teens who might be struggling.
"That got us to really think deeper about what some of these kids, and staff, could be struggling with on a daily basis and how to respond to some of crises that are coming to our camps that we might not have been aware of," said Heather Hayes, Camp Director, YMCA Camp Bay View. "I am not a psychologist, my staff are not psychologists – some are becoming lawyers and teachers – so I think this helps provide an extra layer of support for our campers and their families."
Camps started putting the training into practice as early as week one, seeing the difference in both kids and families. But the training didn't stop in the spring; it has been continuing throughout the summer, with camp leadership and doctors connecting weekly to share real-life scenarios and how they have implemented this training.
"It's not just us at the table as URMC experts offering advice and support, although that's part of what we do, we are also training staff and leadership how to support each other," said Dr. Heatly.
During the summertime, when school is out, it is YMCA counselors, camp directors and program leaders who are caring for kids – sometimes for 11 hours a day, five days a week. Staff spend a lot of time, and get to work with kids and teens, assisting with development of emotional and social skills.
"When you have a child who is going through some challenges and may need some extra support in a program like [one at the YMCA], it's really hard to find that," said Terrence McElduff, Executive Director, Before & After School Program. "So, arming our staff with skills to do that is huge, and so important."
Part of the training not only included learning to identify and approach children and teens who may be struggling, but also how to access resources within the region to share with parents when they do not know where else to turn.
"When you're in that moment of need and you don't know where to go, that's what the Y is for," said McElduff. "Whether you're in a camp, in a branch, in a wellness center, in a pool, we need to help connect those dots. We build community, that's what we do."
This training and partnership do not end when summer camp does. The YMCA of Greater Rochester has plans to work with Dr. Heatly and others from University of Rochester Medical Center to expand training into other child care areas, including Before & After School Programs, Partial Day Preschool and in our full-day licensed child care centers.
"By partnering with the YMCA, we are able to build capacity in our community so that we're able to address the mental health crisis head on to ultimately decrease the amount of need there is in the community," said Dr. Heatly. "We need to have programs that help our kids learn and relearn how to play, how to socialize, how to run, and kick and jump and swim, play music, do the things that kids do, and the YMCA is a hub for all of that and building strong kids and building resilience."
MEDIA COVERAGE